Giving Vision – Honoring Bobsled Champion Steven Holcomb's Legacy in PyeongChang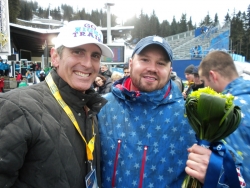 Los Angeles, CA, February 13, 2018 --(
PR.com
)-- Olympic bobsledder Steven Holcomb, who passed away last May, will be honored at this year's Winter Olympic Games for his advocacy work on behalf of patients suffering Keratoconus, the degenerative eye disease that almost derailed his racing career.
Holcomb was in training for the Vancouver Winter Olympics when he was diagnosed with the disease. Eager to compete, he'd tried to hide his failing vision, racing by feel (
here's how the track looked to Steven
) until his eyesight deteriorated to the point where he could no longer compete.
Twelve doctors told him the only treatment option was a corneal transplant, which has a long recovery time and meant he'd have to sit out the Olympics. Then, Holcomb's team doctor discovered a non-invasive procedure called C3-R, which strengthens the cornea with a special application of vitamins and light (read more about
the procedure here
).
After undergoing the procedure and additional lens implants, Holcomb made a full recovery; his vision was restored to 20/20. He was declared fit to race, and steered the U.S. bobsled team to an Olympic gold in Vancouver - America's first gold medal win in four-man bobsled since 1948.
Subsequently the procedure was named Holcomb C3-R in his honor, marking the first time a medical procedure was named after an Olympic athlete.
In the years that followed, Holcomb became an outspoken advocate for minimally invasive Keratoconus treatments, appearing on TV to share his experience and embolden Keratoconus sufferers to take action.
He also collaborated with his eye surgeon,
Dr. Brian Boxer Wachler
, on a foundation called
Giving Vision
- to award grants to needy Keratoconus patients for travel expenses and, in several cases, the entire cost of the sight-saving procedure. Since its formation, Giving Vision has saved the eyesight of over one hundred patients.
These were patients like
Freddie Millard, a Los Angeles bus driver
who had to give up his beloved route because of his Keratoconus; and Sean Belahovick, a
teen who had to drop out of high school
because of his deteriorating vision; and
Mariah Bryant, a hard-working student
from Massachusetts, who couldn't pass the Army eye exam to achieve her lifelong dream of serving her country.
Many patients sent thanks to Holcomb via recorded, post-procedure interviews. "Those interviews meant a lot to Steven," Dr. Brian Boxer Wachler recalls. "Steven found his calling in bobsledding, but - as he himself said - he found his purpose in helping people."
To honor Holcomb's advocacy work, Dr. Boxer Wachler has renamed the foundation in Holcomb's honor – "
Giving Vision – Steven Holcomb Legacy Foundation
" and Steven's mother Jean Schaefer and his agent Brant Feldman are now board members.
Dr. Boxer Wachler
and Holcomb's mom Jean Schaefer will be attending the PyeongChang Winter Games to support the U.S. bobsled team and celebrate Holcomb's legacy, on and off the ice.
About Dr. Brian Boxer Wachler
Dr. Boxer Wachler
is board certified by the American Board of Ophthalmology and is the director of the
Boxer Wachler Vision Institute in Beverly Hills, California
. He has authored three books on Keratoconus and is on staff at Cedars‐Sinai Medical Center. He appears frequently in the media as a vision expert and Keratoconus specialist. To learn more about his Keratoconus procedures, please visit
http://www.keratoconusinserts.com/
Contact
Lucid Public Relations
Jonathan Franks
310-735-9001
www.BoxerWachler.com
Media Contact: Jonathan Franks/Lucid Public Relations

Contact