You Can Now Find Your TRUE PATH on Amazon
TRUE PATH daily planner, journal is now available on Amazon.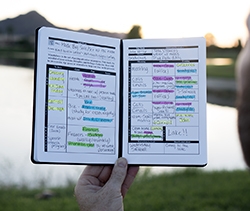 Scottsdale, AZ, February 15, 2018 --(
PR.com
)-- TRUE PATH, a company who produces personal development and productivity tools has made their flagship product TRUE PATH: A 13-week goal setting guide that gives you Direction, Structure and Accountability in the form of a daily planner available on Amazon. TRUE PATH which was launched in December after a successful Kickstarter campaign can now help improve your life through the development of healthy habits, changing unwanted ones and accomplishing the things you want most in life (Goals).
Casey Moran, creator of TRUE PATH says, "Instead of asking the questions... what should I do to improve my life? What else is there? What's my Purpose? You can now click that Amazon button and TRUE PATH will be in your hands the next day, and in some cases that same day!" Moran went on to say, "It's my passion to help people go from where they are in life, to where they want to be!"
Interestingly, TRUE PATH was created by accident when Moran started his first company 20 years ago. He said, "Nobody believed I could do it, so I took out a simple college lined notebook and wrote down what I was going to do the next day, the night before. That was the beginning and as the weeks, months, and years went by I improved upon that simple concept and TRUE PATH was born!"
Casey Moran, an entrepreneur turned Life Coach is giving away the secret to his success, the True Path goal planner. "Once all the Planners were in hand, Amazon was the next big step," Moran said. The goal is to create a TRUE PATH culture with the Planner being the center piece and the community helping one another along the way.
About TRUE PATH: www.truepathplanner.com is a personal development company based in Scottsdale, AZ. Founded in 2017, TRUE PATH has released its flagship product the TRUE PATH Planner.
Contact
TRUE PATH
Casey Moran
602-692-7914
www.truepathplanner.com

Contact