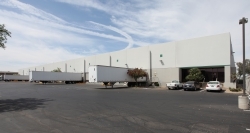 Tempe, AZ, February 21, 2018 --(
PR.com
)-- Menlo Group Commercial Real Estate (menlocre.com) announces that it has successfully negotiated a long-term commercial lease at 1005 West Alameda Drive, Tempe, AZ. This agreement provides the lessee with 110,000 sq ft of warehouse space in a location ideal for its operations.
Ashley E., a spokesperson for the lessee, speaks highly of the deal when she says, "We're excited about what this new space will do for our business. Tanner and Tom at Menlo Group were terrific to work with and made it possible for us to add a location nearby with optimal warehouse space that is key to our operation."
The lessee operates a modern, state-of-the-art manufacturing facility not far from the new warehouse space, so it will realize a number of efficiencies as it grows its operation in the Tempe area.
This major industrial lease is illustrative of the kind of deals that Tom Ellixson and Tanner Milne successfully negotiate for clients relocating to or expanding operations in the greater Phoenix area.
Tanner Milne, Menlo Group President, notes how the brokerage continually seeks optimum opportunities for lessees and property owners alike, "Finding solutions for businesses and property owners is what drives us at Menlo Group. Working with this client was a pleasure and we're proud of the outcome that was achieved."
About Menlo Group
Menlo Group Commercial Real Estate is a full-service commercial real estate brokerage that addresses the needs of the industrial, retail, child care and general, medical and dental office markets in Metropolitan Phoenix. Menlo Group's team combines proprietary trademarked processes with a thorough knowledge of sub-markets and industry types to achieve ideal outcomes.
Menlo Group is driven every day to find the right location and lease structure for every client we work with. We seek the right tenants for a building and the right fit for all stakeholders, including brokers and employees.
Menlo Group's mission is to illuminate the path to success for everyone involved.
For more information, please contact:
Tom Ellixson
Vice President
tom@menlocre.com
480-659-1777