Secdo Wins Prestigious Government Security News Cybersecurity Award for Best Endpoint Detection and Response Solution
Company Ranked #1 in Homeland Security Awards Program Presented by Leading Government Technology Publication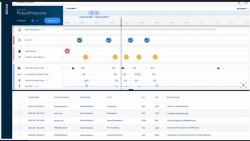 New York, NY, February 22, 2018 --(
PR.com
)-- Secdo, a pioneer in automated endpoint security and incident response technology, today announced that Government Security News (GCN) has named the company's software the
Best Endpoint Detection and Response Solution
in its annual awards program. Secdo Automated Endpoint Security and Incident Response software beat out all other products in the category for technology innovation and advanced features the company provides to customers.
GCN is a respected IT publication focused on the information security requirements of U.S. government organizations. Judging in the GCN awards was based on a review of technological innovation or improvement, filling a recognized government IT security need and flexibility of a solution to meet current and future organizational needs. Secdo received the Platinum Award, the highest achievement in the Endpoint Detection and Response category.
The Secdo endpoint security and incident response platform was chosen for its ability to handle IT security administration from alert triage to resolution, monitoring every computing endpoint and mitigating security threats confronting organizations on an ongoing basis. By incorporating thread-level endpoint visibility and artificial intelligence in one platform, Secdo automatically investigates every security event whether it's from third party providers (SIEM) or the solution's built-in threat hunting capability. This empowers analysts of any skill level to rapidly assess each security event and determine the risk level in seconds.
Secdo provides a complete picture of each attack, identifying the root cause, scope of endpoints involved, and file reputation so incident response teams can take immediate action. The platform's response and remediation tools include more than 100 techniques capable of scaling from one machine to the entire environment without any risk to business continuity, eliminating potential threats and preventing proliferation. For unseen external or internal threats, Secdo quickly provides a customized form of threat detection that is unique to the organization and adapts/evolves by learning from past investigations. This information is then used to prevent similar attacks in the future.
About Secdo
Secdo
offers the only endpoint security platform to automatically investigate and resolve every security alert for you, cutting the time it takes to detect and respond to security alerts down to seconds. With enhanced productivity, security teams leverage Secdo's unrivaled thread-level visibility to hunt for unseen threats, creating a scalable proactive defense. Secdo is headquartered in New York, NY, with office and security teams around the globe. Visit www.secdo.com or follow Secdo on Twitter at @Secdocyber.
Contact
For more information please contact Secdo at 917-338-2277 or visit https://secdo.com
Contact
Joe Austin
818-332-6166

Contact