Harrisburg University Backed Thought Network Launches Pre-ICO March 1
Thought is a blockchain and AI start-up, backed by Harrisburg University of Science and Technology. Thought is fundamentally changing the way data is processed by embedding AI into every small piece of data. This makes otherwise "dumb" information smart. Data becomes able to act on its own, eliminating the need for external applications, and thus makes data processing faster and cheaper.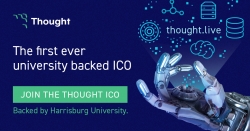 Philadelphia, PA, February 26, 2018 --(
PR.com
)-- On 1969 humans landed on the Moon for the first time. Now, less than 50 years later the smartphones in our pockets are over 100 million times more powerful than the computers used in the famous Apollo missions. The incredible advancements in technology have truly taken humans to the next level.
With that much data produced, our current methods will no longer be viable. We'll end up in a landscape littered with information while not having sufficient intelligence to process all of it. Already, even the most complex and intelligent AI and data systems struggle to deal with all of the data we create.
The patented technology of Thought Network tackles the problem from a completely new angle.
Thought is a blockchain and AI company backed by Harrisburg University of Science and Technology. While most AI and big data businesses still focus on handling larger and larger amounts of data, Thought's patented technology takes an entirely new approach – it makes data smart.
By embedding every small bit of data with artificial intelligence, Thought can make ordinary data, that needs applications to become valuable, aware of its origin, its purpose and makes it able to act on its own to complete its task. This new way reduces the need for traditional applications, making data processing cheaper and faster. Instead of communicating with different applications, data can communicate with other pieces of data directly.
"At some point in the future, our current methods of handling data will no longer be feasible to cope with the ever-growing amount of information generated by humanity," says the CEO of Thought, Professor Andrew Hacker, who has conceived and developed the concept of smart data and algorithms for the past six years.
"Smart Data allows us to create a completely new paradigm of active data, where we can do everything more efficiently, intelligently, quickly and securely. Because of our ability to embed intelligence into pieces of data itself, we have the potential to revolutionize both AI and the process by which artificial intelligence is taught."
By integrating blockchain technology with Smart Data, Thought can make AI more accessible, transparent and above all more secure.
"Every small piece of Smart Data is secured with multi-level encryption. Being able to secure individual bits of data is the Holy Grail of cybersecurity," explains Professor Hacker, who, in addition to running Thought Network, is a cybersecurity expert in residence at Harrisburg University.
Thought Network's unique angle on the increasing data problem has granted Andrew Hacker and his company an US patent.
Thought Network is working closely with Harrisburg University.
"We're proud of Andrew's accomplishments and are honored to have him as a valuable member of Harrisburg University," says Dr. Eric Darr, the President of Harrisburg University, which is one of Thought's equity partners. "We came to believe that Mr. Hacker's technology had significant promise. Therefore, HU has been pleased to financially support the involvement of many computer science students in the further development of the latest Thought Network technology."
"Mr. Hacker's patent shows the community that the University supports local people doing great things, and it gives our students a great example of what you can accomplish in the growing field of technology."
"The upcoming release of this new technology, Thought Blockchain, and its applications for businesses and consumers in artificial intelligence and analytics represents the bleeding edge of innovation. Harrisburg University looks forward to continuing its work with Mr. Hacker and Thought Network as they continue developing new and valuable technology." - Dr. Eric Darr.
Building something as complex as Thought requires a dedicated and brilliant team
Thought's team consists of over 15 well-educated and experienced members, and they have a knowledgeable and impressive board of advisors, ranging from a retired Army Colonel to PhDs in AI, Biochemistry and Computer Science, and many more.
"Coming up with the idea was the easy part, building the technology and taking it to the point it affects the broader scale is the difficult part. But thanks to our incredible team, we have moved at an exponential pace towards the completion of our project. It's a spectacular thing to witness how we are able to collectively knock down obstacle after obstacle," says Andrew Hacker. "There will always be technical hurdles to overcome, which is exactly why we are doing this – because that part is fun! Whatever hurdles there may be, we are ready!"
Now, on the final stretch of getting their MVP ready, Thought is launching an ICO on the 1st of March. The ICO will last for one month, with the pre-ICO lasting from 1-13 of March and the ICO taking place from 14-31 of March. Participants in the pre-ICO receive a 15% bonus on their token purchase, and ICO participants gain 5-10% bonus.
"As you know driving adoption isn't easy. We are spreading the word about Thought by developing partnerships with educational establishments, business organizations and industry experts, building communities around Thought Network concepts and educating developers on building a top of Thought platform," explains Prof. Hacker about how they'll utilize their funding. "Also, to truly build a widely used and comprehensive platform, we need to develop it further, adding more possibilities and functions."
Learn more about Thought Network's ICO:
https://thought.live
Contact
Savii Digital
Aviva Ounap
520-576-2472
saviidigital.com

Contact