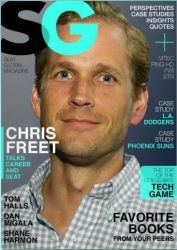 Scottsdale, AZ, March 02, 2018 --(
PR.com
)-- Fresh off the press: SEAT Global Magazine March issue.
Sports & Entertainment Alliance in Technology has published the March edition of the
SEAT Global Magazine
profiling exclusive interviews of global sport executives and recent sport and entertainment industry project success stories. The magazine is distributed to more than 11,000 sports, venue, collegiate and entertainment professionals worldwide.
The March issue of SEAT Global Magazine (
http://joom.ag/80xL
) features exclusive sport executive interviews with Chris Freet (Sr. Associate AD-External Relations at University of Arkansas), Shane Harmon (Chief Executive at Westpac Stadium, New Zealand), Dan Migala (Chief Innovation Officer at 4Front) and Tom Halls (Head of Strategic Development at GFinity eSports, United Kingdom).
The peer-driven digital magazine also features case studies of the Kansas City Royals, LA Dodgers, American Airlines Arena, Texas Longhorn locker room and Stone Timber River.
"SEAT Global Magazine is a different type of digital read," said Christine Stoffel, Founder and CEO of SEAT. "SGM is not a magazine filled with corporate ads and redundant content, but a digital magazine with rich content, exclusive global sport and entertainment executives, relevant industry technology case studies, leadership articles, best practices, lessons learned, forward thinking strategies and true examples of thought-leadership directly from the SEAT Global Community of sport & entertainment practitioners."
SEAT Global Magazine is dedicated to the SEAT Community of sport & entertainment leaders across the globe sharing perspectives, insights and their personal life and career journeys.
For companies looking to increase their profile across the sport and entertainment industry, case study advertising opportunities are available for the magazine that reaches a target-rich market of technology professionals.
The March 2018 digital magazine and past issues can be viewed by downloading the SEAT Global Magazine mobile app on
Apple iTunes Store
or
GooglePlay Android Store
.
About SEAT
The Sports & Entertainment Alliance in Technology was established in 2006 by its Founder & CEO, Christine Stoffel of Scottsdale, Arizona while she served as Vice President of Technology & Strategic Operations for the Phoenix Coyotes as well as Vice President of Technology for the Arizona Diamondbacks. SEAT was founded as a two-day consortium focusing on connecting professionals and executives in the sports and entertainment industry. It is the only 100% peer-driven industry conference in the world and prides itself on being the only gathering that all five major US leagues attends and across the globe. For more information, please visit
www.seatcommunity.com
Media Contact
Christine Stoffel
CEO, SEAT LLC
602-639-1807
media@seatcommunity.com