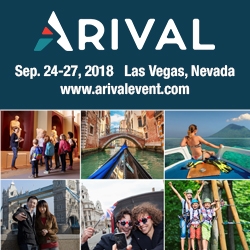 Boulder, CO, March 05, 2018 --(
PR.com
)-- Arival, the only event dedicated to Tours, Activities & Attractions, has opened registration for the second annual conference, taking place September 24-27, 2018, at the Hard Rock Hotel & Casino in Las Vegas, NV.
Now in its second year,
Arival
is dedicated to advancing the business of creating amazing in-destination experiences through inspiration, education, business development and community. The Arival program focuses on what matters most to the modern provider of tours, activities and attractions: technology, marketing, product innovation, business development, distribution, guest experience and more. Nearly 600 attendees from around the world attended the inaugural Arival in 2017, and attendance is expected to double in 2018.
"Anyone who works in travel and tourism today could spend just about every working day going to one industry conference or another. And yet the global travel, tourism and hospitality industry has all but ignored tours, activities, events and attractions," said Bruce Rosard, co-founder and managing director, Arival. "Sorry hotels and airlines, but it is these experiences which inspire travel in the first place. It is high time that travel's third-largest and fastest growing sector has a conference dedicated to the very distinct needs of in-destination experience businesses."
Here is why the global travel industry needs Arival:
1) Travelers spent nearly $150 billion on Tours, Activities & Attractions last year. It's travel's third-largest sector, and the fastest growing, according to Phocuswright.
2) The technology innovation that has transformed other sectors of travel is now bringing rapid change to Tours, Activities & Attractions. Many innovative startups and established online travel companies are now focusing on in-destination experiences.
3) Mobile is transforming how travelers decide what to do when they get there. The old days and old ways of ticket offices and brochures just doesn't cut it.
4) There is no event that meets the unique needs of the tens of thousands of businesses that serve the traveler in-destination. Sightseeing tours, attractions, activities – these are not airlines or hotels. They face very distinct challenges to marketing, distribution, technology, fulfillment, and more.
5) Industry leaders who attended last year came from leading companies such as Viator, TripAdvisor, Expedia, GetYourGuide, FareHarbor, Checkfront, Tiqets, Airbnb, Google, Rezgo, Musement, Colorado Tourism Office, Gray Line Worldwide, Big Bus, City Sightseeing Worldwide, Sightseeing Pass, Groupon, Peek, One World Observatory, Universal Orlando, Cirque du Soleil, Tours By Locals, Travelling Spoon, NFL Experience and many others.
Key elements of the Arival program:
Speakers from the biggest brands and digital leaders among Tours, Activities & Attractions.
Actionable education on distribution, digital marketing, pricing, mobile, social and technology designed specifically for providers of Tours, Activities & Attractions,
Networking and community with more than a thousand leaders from the sector
Parties, fun and activities: Arival is an experiential event for all attendees
A limited number of Super Early Bird Tickets are on sale now for $695, a savings of up to $500.
Arival assembles thousands of leaders from Tours, Activities & Attractions in September in Las Vegas who joint together to participate in Arival's mission to establish Tours, Activities & Attractions as the major sector of the global travel, tourism and hospitality industry that it deserves to be.
For Information Contact
Bruce Rosard, Managing Director and Co-founder
+1 303.926.0339
bruce at arivalevent.com