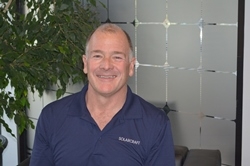 Novato, CA, March 08, 2018 --(
PR.com
)-- Novato and Sonoma-based SolarCraft, a leader in solar and clean energy system design and installation, announced that Mark Johnson has rejoined the company as Vice President of Operations. Drawn back by new leadership and expanded technology and service offerings, Mark returns to SolarCraft where he previously served from 2004-2006 as the Operations Manager.
In his new role, Mark will be responsible for directing the operations of SolarCraft's solar electric, solar pool heating, energy storage and service teams. Mark brings more than twenty years of construction experience in the solar and electrical fields, and balances his experience with specialized expertise in Solar Photovoltaic (PV) and a client-first approach to Project Management. Before returning to SolarCraft, Mark spent over 10 years with Chevron Energy's Solar Department, managing multi-million dollar solar photovoltaic and energy conservation projects throughout Northern California.
Mark has managed many successful solar projects including those for Woodlands Market, Cline Cellars, the South San Francisco school district, City of Salinas Energy Upgrade project including PV, LED streetlight and HVAC upgrades, and comprehensive energy projects for Sonoma State University. Mark applies his expertise and passion for renewable energy towards proactive planning, clear communications, and execution with his teams and clients to achieve effective and efficient results. Mark lives in a solar powered home in San Rafael with his wife and two children. He is not only a partner at SolarCraft, he is also client.
"We are very excited to welcome Mark back to the team," says SolarCraft CEO Ted Walsh. "In addition to his industry experience and leadership skills, Mark is invested and committed to our community in a way that perfectly aligns with the values of SolarCraft."
SolarCraft delivers Solar and Clean Energy Solutions for homes in the North Bay and businesses throughout Northern California. SolarCraft provides the most advanced solar technology with expert in-house design/build services; all back by comprehensive warranties supported by 35 years of local experience and dedicated service and maintenance teams. SolarCraft is 100% Employee-Owned and is proud to be one of the largest green-tech employers in the area. We are a certified Green Business and a Pacific Sun "Best in Marin" Hall of Fame member. Our team of dedicated employee-partners is proud to have installed more solar energy systems than any other company based in the North Bay. We invite you to learn more about SolarCraft and the economic and environmental benefits of solar at
www.solarcraft.com
.