NYC Kosher Restaurant, Talia's Steakhouse & Bar, Will Serve Prepaid Glatt Kosher Passover Seders, Chol Hamoed & Yom Tov Meals During Jewish Pesach Holiday
Celebrate a stress-free Passover 2018 with your friends and family without spending the whole day in the kitchen and cleaning.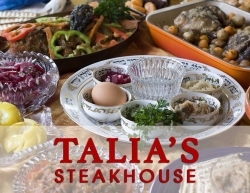 New York, NY, March 13, 2018 --(
PR.com
)-- NYC Kosher Restaurant, Talia's Steakhouse and Bar, Serves Prepaid Glatt Kosher Meals for Chol HaMoed, Seders and Yom Tov.
To see the full schedule of prices and menus for the holidays, check out Talia's Passover web page:
http://taliassteakhouse.com/holidays/jewish-holidays/passover/
Passover 2018 is just around the corner. Why not enjoy a stress-free celebration with your family and friends without needing to spend hours shopping, cooking and cleaning?
For more than fifteen years, Talia's Steakhouse and Bar in Manhattan has been the number one glatt kosher restaurant in theUpper WesidNew York City. From the start, Talia's has been renowned for its prepaid Shabbat and Jewish holiday meals. This month the management is delighted to announce they will once again serve four Passover Seders (prepaid), in two shifts per night. In addition, they will serve dinner and lunch during Yom Tov and Chol HaMoed. During this most important Jewish holiday season, Talia's will be open practically 24/7, so guests can sit back and enjoy delicious, full-service meals without needing to lift a finger. Talia's also features a kosher for Passover full service bar.
On Friday March 30th, at sundown, Jewish families all over the world will take part in the Seder ceremony which marks the beginning of Passover 2018. During the feast, the biblical story of the Jewish people's slavery in Egypt will again be related, a highlight being the liberation of the Jews after the Egyptians were afflicted by ten plagues. On the Seder night, entire families picture themselves having just been released from Egypt. No wonder some spend the whole evening celebrating this joyful occasion.
Talia's has been celebrating the Seder since 2003. Because of its ongoing popularity, the Seder feast will again be offered in 2018.
"If you're seeking a restful, no-stress way to celebrate Passover with the people you love, think about visiting Talia's popular glatt kosher restaurant," says manager Adam Nagar. "Our doors are open to all Jews, irrespective of religious backgrounds, incomes, or levels of conviction and practice. If you're interested in discovering the source of the Passover tradition, whether you're bringing a large family or just seeking a spot for yourself, you're welcome to take part in our Seders."
Talia's Seder feast will have four courses. These include your choice of brisket, grilled rib-eye steak, Moroccan salmon, chicken marsala or lamb shanks, plus a mouthwatering dessert. There's also a matzoh ball soup to delight all palates. Every guest will receive a full, traditional Seder plate with 4 cups of wine. Talia's kosher bar offers additional cocktails, martinis and wines.
To make sure all meals are prepared in line with kosher laws, the restaurant is operated under strict rabbinic supervision. All holiday food is prepared in advance if it falls on Shabbat or Jewish holidays, and since the exchange of money is prohibited during this time, every meal is pre-paid. That's why no walk-ins are allowed and you need to make advance reservations. These are now being accepted for the 2018 celebration.
Two nights before Passover begins, Talia's will get a team to scrub down the entire kosher restaurant. This will ensure there's not a speck of chametz (leaven) left in the place. To find out how they do this, visit:
https://www.dnainfo.com/new-york/20120403/upper-west-side/uws-restaurants-mark-passover-with-deep-cleaning-seder-menus#ixzz2HGlqclWb
Outside of Passover, Talia's provides a romantic setting with roses and candles on every table - a perfect dining experience for couples in a holiday mood. But since space is restricted, you'll need to make a reservation.
You'll find Talia's Steakhouse and Bar at 668 Amsterdam Avenue (between 93rd and 92nd Streets) in New York City. Visit http://taliassteakhouse.com/nearby-hotels/ for a listing of hotels and shuls in the area.
Carry-out services offered by Talia's:
Talia's will cater for big or small parties at your synagogue or home. For local Jewish families who celebrate Passover and other special holidays, the restaurant is renowned for its excellent and affordable glatt kosher catering. Pick-ups and deliveries are offered as well. Restaurants and hotels elsewhere may also like to have doubled-wrapped glatt kosher packages delivered to their door. Talia's staff are on hand each day to help clients sort the details.
What do the critics say about Talia's? Read the words of one of them on:
http://blogs.jpost.com/content/nyc-has-slammin-food-passover-year
Contact Information:
Talia's Steakhouse & Bar
Call Adam Nagar at 212-580-3770
Website: taliassteakhouse.com
Contact
Talia's Steakhouse & Bar
Adam Nagar
212-580-3770
http://www.taliassteakhouse.com

Contact
Multimedia
Watch this video how a Glatt Kosher restaurant in Manhattan such as Talia's Steakhouse & Bar is serving Shabbat and Jewish holidays meals.