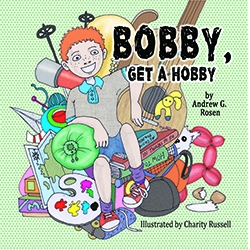 Floral Park, NY, March 20, 2018 --(
PR.com
)-- New York-based writer and content creator Andrew G. Rosen is pleased to release his first illustrated children's book that tells the story of a curious little boy who finds himself bored and searching for fun activities to help pass the time.
Featuring colorful illustrations by Charity Russell, "Bobby, Get a Hobby!" takes readers on a journey of self-discovery, as they learn about leisure activities and pastimes they can participate in, sans technology.
The colorful 32-page book, inspired by the author's 6-year-old son, is a throwback to classic children's books with a simple message: get children to unplug.
"If I can get one child to put the phone down and pursue a hobby or simply be present enough to hear a bird or smell a flower, I'm satisfied," says Mr. Rosen. "I've seen way too many children addicted to cell phones and screens, and frankly, I'd love to be a small voice in the fight against the zombie-like trance many 21st century kids find themselves in."
"Bobby, Get a Hobby!" available on Amazon.com, is the perfect book for children who spend too much time with technology. The companion website,
bobbygetahobby.com
, explores each of the hobbies illustrated in the book in greater detail.
For additional information, please visit www.bobbygetahobby.com