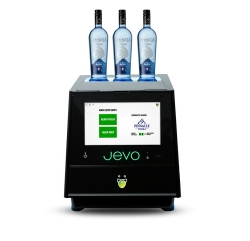 Nashville, TN, March 20, 2018 --(
PR.com
)-- Nashville is discovering what Las Vegas, Dallas and Miami already know: When the gelatin shots come out, the party gets way more fun. Jevo gelatin shots are now being served in Nashville's Swingin' Doors Saloon, Nudie's Honky Tonk, Dawghouse Saloon, Winners and Losers Bar & Grill, FGL House, and Marriott Gaylord Opryland Resort.
Jevo is the world's only automated gelatin shot maker system, manufactured by U.S.-based Food + Beverage Innovations, LLC (F+BI). Jevo takes the 4-5 hr. messy labor-intensive process of making gelatin, down to minutes, all while focusing on serving up an amazing tasting and easy to consume Jevo gelatin shot, that guests love.
The Jevo technology allows nightclubs, bars and restaurants to create delicious gelatin shots in minutes. Bar staff simply insert a Jevo flavor pod, selects a spirit, and Jevo takes care of the rest. Jevo even tracks usage for automatic pod resupply, so staff never needs to worry about running out. From traditional flavors such as Cherry and Apple, to cocktail-inspired flavors like Margarita Limeville and Pina Colada, recipe possibilities are unlimited.
The Jevo system's consumables, which include flavor pods, shot cups and lids, are all recyclable.
"Without question, we're very excited to be part of the Nashville scene," says Nashville local and Jevo Territory Manager Aaron Boone. "As we scale into new markets, Nashville makes perfect sense for Jevo - especially after experiencing such enthusiasm in other major hubs."
The team at Jevo has found that restaurant managers not only appreciate the product's simplicity, but also its workhorse capacity to prepare up to 300 servings per hour. Product specialists also like to point out that the Jevo system's precise pour capability helps operators control liquor costs and control over pouring all without compromising consistency.
"The people behind Jevo think through every detail," says Nashville's Steve Ford of Winners and Losers Bar. "Aside from the quality and predictability of making gelatin shots customers love - which is pretty mind boggling by itself - there's also a cool, fun factor. Everyone loves how they taste, and the majority wish they had a Jevo in their house."
Jevo flavor pods are available in 11 flavors and they taste great with just about any spirit.
"Before Jevo, gelatin shot sales were limited because of how much planning, time and effort was needed. This changes everything," says Ford. "It's eliminated the challenges of quality control, cost and inventory. Today it's basically impossible to run out of shots. Plus, it gives us a way to add to our drink program with the quality we expect."
Boone points out that with Jevo, customers are winning on both ends. It's easier on staff, better for the bottom line, and provides guests a great shot experience.
See Jevo in Action
F+BI will be demonstrating Jevo and showing off its latest features at the following events:
· Nightclub & Bar Show, (NCB), Las Vegas, March 26-28
· National Restaurant Association (NRA) Show, Chicago, May 19-22
Nashville operators can learn more about Jevo by contacting Aaron at
Aaronb@getjevo.com
and visit our website at
www.getjevo.com
.
About Jevo and F+BI
Co-founded in 2012 by serial entrepreneur Jeff Jetton and Tyler Williams, Food+Beverage Innovations, LLC is the creator of Jevo, the world's first fully automated gelatin maker. From its headquarters in Portland, Ore., 47 team members spread value by helping the food and beverage industry serve up way.more.fun.™
Media Contact:
Reymond Hernandez
888-491-3772 x 702
reymondh@getjevo.com
Social:
https://twitter.com/JevoMaker
https://www.linkedin.com/company/food-&-beverage-innovations/
https://www.facebook.com/Jevoshotmaker/
https://www.instagram.com/getjevo/