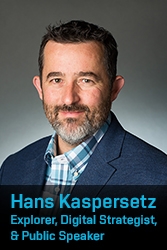 Summit, NJ, March 22, 2018 --(
PR.com
)-- Arteric has been transforming technology into competitive advantage for healthcare marketers for 2 decades. This history explains why Arteric is the healthcare digital marketing agency that's leading the charge to leverage artificial intelligence (AI) to enhance search engine marketing campaigns and content strategy. At Pharma Customer Experience (CX) Summit 2018 on March 28 in Summit, New Jersey, Arteric President and Chief Strategist Hans Kaspersetz shares how Arteric uses AI to uncover customer insights during the session titled, "
AI - Super Hearing for Healthcare Marketers. Detecting Weak-but-Important Signals of Customer Behavior
."
Arteric is a major sponsor of Pharma CX Summit 2018, the pharmaceutical industry's leading peer-to-peer conference that focuses exclusively on optimizing the customer experience. The conference's comprehensive agenda covers three pharma customer segments - patients, payers, and providers. Thought leaders from healthcare and other industries share how a better customer experience - led by design thinking, content, measurement, and technology - drives engagement and outcomes in a real and measurable way.
"Pharma CX focuses on topics that align especially well with Arteric's research program - engaging customers on their terms by providing valuable content and leveraging data to target customers and drive strategy," states Mr. Kaspersetz. "Our work with AI is designed to reveal customer behavior and provide insights into how to optimize content for different audience segments, so I'm looking forward to sharing our experience and insights at this meeting."
The conference speakers represent leading pharmaceutical brands, technology companies, digital marketing agencies, patient groups, and CX business experts.
Key topics discussed throughout the conference include:
· Customer experience: creating a holistic multichannel approach to engage patients and healthcare professionals (HCPs)
· Patient centricity: creating a dynamic patient experience across all touchpoints
· Physician/HCP engagement: strategic insight to engage HCPs via emerging channels
· Content marketing: engaging customers on their terms by providing valuable content
· Context marketing: leveraging data to target customers and drive strategy
· Outside industry: learning the latest strategic insight from travel, banking, and media experts
"We're excited to be working with Arteric on the Pharma CX Summit this year. Hans is an established thought-leader on digital marketing strategy and technology, who can add another level of digital expertise to the conference agenda," says Tom Hanley, PanAgora Pharma Co-Founder. "Our attendees come to the Pharma CX Summit to learn how to improve engagement across customer segments, and who better to learn from than a leading digital marketing agency like Arteric?"
Mr. Kaspersetz adds, "The sessions at Pharma CX will showcase the wide array of perspectives, strategies, and tactics that craft the customer experiences throughout the customer journey. Leveraging technology to optimize CX is a key focus for us. We look forward to seeing our peers' work and successes."
Contact Arteric to Enhance Your Customers' Experiences
For 2 decades, Arteric has helped global brands delight their audiences, by providing seamless and persuasive experiences through an evolving technology landscape. Contact Mr. Kaspersetz at 201.558.9910 to craft the optimal experience for your customers.
About Arteric
Arteric is a healthcare digital marketing agency built on a foundation of technology expertise - digital strategy, software engineering, search engine optimization, and search engine marketing. Arteric develops the strategy and the software - websites, mobile apps, and Web applications - that drive pharmaceutical and biotechnology digital marketing campaigns and connect the public and healthcare professionals with information about life-changing therapies, technologies, and devices.