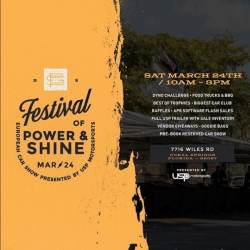 Coral Springs, FL, March 22, 2018 --(
PR.com
)-- USP Motorsports hosting 7th Annual Festival of Power and Shine
Hundreds of Car Enthusiasts Will Be In Attendance
USP Motorsports welcomes back the Annual USP Motorsports Festival of Power & Shine (FOPAS). For the seventh year, the popular event for car enthusiasts and attendees will feature a European Car Show, a dyno challenge, food trucks, awards with hand-welded trophies, show specials for products, vendor giveaways, raffles and pre-reserved parking. Attendance is free, but VIP early-bird options with prize packs (includes free gifts, raffle tickets, reserved parking) are available. The event features over $10,000 USD in prizes and raffles for those in attendance.
Car Show + Dyno Contest features highly coveted, hand-welded trophies. German vehicles in South Florida battle it out over power and looks in a variety of classes.
The 2018 FOPAS Car Show is Saturday, March 24th from 10:00 AM to 3:00 PM. Expected are 100s of VW, Audi, Porsche and BMW enthusiasts from all over the country.
On site and product sponsorships and vendors include:
APR, LLC
Forge Motorsports
LIQUI MOLY
034 Motorsport
Continental Tire
AWE Tuning
KW Suspension
Integrated Engineering
Food and beverage service provided by Cheffrey Eats and 32 Bubbles Food Trucks. Duck Donuts will also be providing specialty donuts and coffee for early birds.
Animal adoption agency Furever Family Rescue who will be bringing puppies that need a home will also be in attendance.
USP Motorsports is a performance parts engineering firm & retailer in North America. Specializing in Volkswagen, Audi, McLaren and Porsche vehicles. Since 2001 USP Motorsports has been building, tuning, and repairing these vehicles for enthusiasts the world over. Customer service is paramount, with continually trained staff and highly experienced, ASE certified technicians to assist customers. Parts are shipped globally from USPMotorsports.com to DIYers or performance shops around the globe.
For more information call: Gloria at 954-755-7772 or 305-343-7664 or email service@uspmotorsports.com