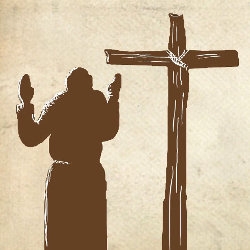 San Diego, CA, March 28, 2018 --(
PR.com
)-- Spanish animation producer Pedro Alonso Pablos has made a 33 minute long film about the life and work of Fray Junipero Serra, sometimes called the father of California. The film has been entirely made by Pedro, in a traditional digital style, with his own music.
"When I first read Fray Junipero's biography, about two years ago, I was suddenly watching parts of a possible film about his life running through my head. It has some important landmarks in his life, emotive and stunning, that I have adapted to this film. The first one is the letter of farewell he wrote to his parents when he left to America. And there are many other emotional moments in his life and in the movie," says Pedro, the producer. "Later on I composed a melody which I think is tailor made for this film, and instantly assigned it to the project."
The result is a 33 minute long film, made in one of Pedro's particular visual styles, telling the life of Junipero and its importance for all of us. The film is currently available through
his own online video store on his website
.
Pedro Alonso Pablos (Madrid, 1979) is a Spanish TV presenter and an animation producer. In 2004, prior to the appearance of Youtube, he presented, directed and produced his own talk show for the net, distributed through his own website, with important guests like Santiago Segura (a successful Spanish film producer), Guillermo del Toro or Keanu Reeves. This work is considered by some as the first talk show for the internet.
Later on, he has produced many animation films, short and long, distributed in Europe and America mainly. These films have been almost entirely made by himself.