Phlebotomy Career Training Incorporates Echocardiogram Training Into Their Electrocardiogram and Telemetry Online Class
Due to popular demand, Phlebotomy Career Training has now added instruction in echocardiogram as part of the Electrocardiogram Cardiac Monitor Technician course curriculum.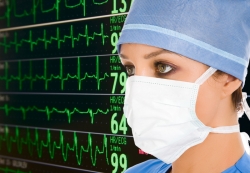 Los Angeles, CA, March 29, 2018 --(
PR.com
)-- Unbeknownst to many lay people who are not in the medical field, electrocardiogram technicians need to know how to perform echocardiograms as well as read and interpret cardiac arrhythmias. While each of these specialties are unique unto themselves, the EKG tech must be proficient in all.
Phlebotomy Career Training
realized the need for more cardiovascular training for its online students studying ECG and telemetry. So what is an echocardiogram? The best explanation is that it is basically an ultrasound of the heart. Just as an expectant mother receives an ultrasound of her baby to determine whether she will have a girl or boy. The echocardiogram can tell whether or not the heart is functioning properly with respect to blood flow.
The professional who performs this test is an electrocardiogram technician. The EKG tech will take a device shaped like a phone and apply some gel, then position it at different locations around the heart muscle on top of the chest. Hospitals throughout the United States use both the ECG technicians and telemetry technicians to perform this test. Phlebotomy Career Training has done extensive research in the field of echocardiogram education and has determined that it is in the best interest of the student to have this knowledge. As a matter of fact, Dr. Kimmel indicated in the interview that each and every student of ECG must perform a 40-hour clinical and have documentation signed indicating that the student has done an echocardiogram. Not only does that student have to perform an echocardiogram under the supervision of a cardiologist, but they must also perform twenty twelve-lead electrocardiograms and practice reading and interpreting the telemetry printouts of each patient on a five lead telemetry monitor.
The amount of hands-on training that each student must have to graduate prepares them to enter the workforce with confidence. The number of students requesting the extra training, in the opinion of Mr. Taji, one of the classroom instructors, has been extremely encouraging. According to Mr. Taji, "This shows us how much students care, not only about their careers, but also about the quality of education that they are receiving from
Phlebotomy Career Training
. There appears to be a large practice gap with respect to the education of online students in EKG. Educational training varies from 3 days to up to 1 year. The variation in training makes one wonder about the quality of education that students receive.
According to Dr. Kimmel, "We have been educating students both in class and online for over ten years. Our philosophy is that all students should receive the same quality training, and that is why we have dedicated instructors for online classes who can answer questions and help students to learn and understand the material."
It will be interesting to see how students respond to the new implementation in curriculum in echocardiogram instruction down the road. In the meantime, everyone who is considering a career in electrocardiogram training should be aware of the necessity of learning and understanding how an echocardiogram works.
Contact
Phlebotomy Career Training
Nancy Kimmel
734-762-3220
https://www.phlebotomycareertraining.com
28050 Ford Rd., Ste. A
Garden City, MI 48135

Please call 313-826-2381 or 313-461-6668 to speak with their counselors regarding their online programs.

Contact