Bringing the Spirit of New Orleans to a City Near You
A lot of exciting details regarding the 4th Annual Jazz Crawl for Charity and associated Kickstarter are being worked out. This is the first release.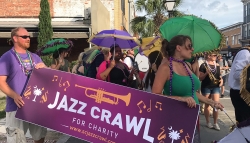 Charleston, SC, April 02, 2018 --(
PR.com
)-- The 4th Annual Jazz Crawl for Charity in Charleston, SC will be a springboard for launching a Kickstarter campaign intended to expand the reach of the unique celebration and community impact into new cities.
The event celebrates the artistic culture and festive traditions of New Orleans as a tribute to loved ones not with us anymore. Festivities are kicked off by randomly crowning the year's Royal Court of the Krewe, and then continues from spot to spot with a traditional New Orleans Second Line that parades up to the next local jazz club, dancing and waving parasols behind a live brass band. Proceeds go towards aiding the talents of exceptional music students locally and in New Orleans.
Memorial instrument donations are engraved in the name of loved ones, and the Jazz Crawl sets the stage to promote local businesses and showcase the local creative community of musicians, artists, and performers.
The outpouring of support has motivated organizers of the event to incorporate the NOLA Kid at Heart Foundation. In addition to the crowdfunding goal, the Kickstarter campaign will be used to gain awareness and support in new cities.
"We've come a long way since I lead the Second Line parade down King Street with a boom box over my shoulders as a tribute to my Aunt Patty in 2015," said Rick Tringali, founder of the Jazz Crawl. "It's been truly inspiring to see the community's heartfelt response grow each year so I've decided to give in to everyone's request for me to bring the Jazz Crawl to their home town."
It's no secret that New Orleans has passionate admirers across the globe. The rewards for backers of the Kickstarter and perks for volunteer leaders in new cities will be designed to incentivize these ambassadors to "Join the Krewe."
"The glowing smiles in the photos and videos of previous Jazz Crawls paint a picture of how special the event is, but feeling the positive energy in person is a magical experience," said James Walsh, owner of Prohibition on Upper King. "What Rick is doing as a tribute to his aunt and the city of New Orleans is something easy to support. It won't take long for the annual celebration to catch on in other cities."
Barring city approvals, the date for the 4th Annual Second Line Jazz Crawl for Charity in Charleston, SC is tentatively set for July, 8th.
More details can be found at www.sjazzcrawl.com. For information regarding the Kickstarter campaign, sponsorship opportunities, and volunteering needs contact Rick Tringali, founder of the Jazz Crawl and president of the NOLA Kid at Heart Foundation at rick@scjazzcrawl.com
Contact
Jazz Crawl for Charity
Rick Tringali
865-300-9649
scjazzcrawl.com

Contact