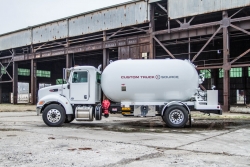 Kansas City, MO, April 07, 2018 --(
PR.com
)-- Custom Truck One Source will debut a new propane crane service truck at the NPGA Southeastern Convention & International Propane Expo held April 6-8 in Atlanta, GA. Offering a design specific to the market, this unit continues Custom Truck's expansion of their propane products and services.
"This unit provides a new level of efficiency for our customers," said Wayne Terpstra, Custom Truck's Propane Product Manager. "With this unit, propane service calls can be handled by a single person, easily and safely."
The Propane Service Truck features a body manufactured by Load King LLC, a wholly owned subsidiary of Custom Truck. Built on a Dodge Ram 5500, the Load King body boasts an all-aluminum bed with the capability to carry two 500-Gallon tanks or one 1,000 Gallon tank. The unit also features side rails, headache rack, three large storage boxes, concrete brick storage holder, removable pipe vice attachment and placard brackets.
The service unit is equipped with a 6,000 lbs. capacity crane, with a fully extended length of 20.4 ft, allowing for tanks to be placed over fences. The NEXSTAR™ Control System provides independent proportional joystick control with versatile speeds and includes a tri-axis sensor for maximum safety.
Custom Truck will display this unit, along with one of their bobtail propane units at booths T-0147 and T-0139.
About Custom Truck One Source
Custom Truck One Source is the first true single-source provider of specialized truck and heavy equipment solutions. With sales, rentals, aftermarket parts and service, equipment customization, remanufacturing, financing solutions, and asset disposal, our team of experts, vast equipment breadth and integrated network of locations across North America offer superior service and unmatched efficiency for our customers. Learn more at
customtruck.com
and keep up with us on Facebook and Twitter.