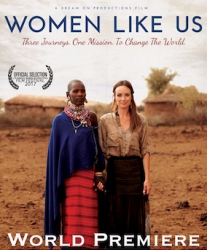 Chicago, IL, April 04, 2018 --(
PR.com
)-- Film focusing on female empowerment comes to Chicago, IL
"Your basic abilities matter, and can be a miracle in someone else's life." - Caroline Barnett, LA Dream Center
A new documentary film screening titled "Women Like Us" will be held on April 7th, 2018. With strong female empowerment themes, the film captures dedicated heroines showcasing the positive results that occur when taking the first step to making a difference. Dream On Productions has partnered with Gathr Films, a crowd-sourcing platform titled Theatrical-On-Demand®, to release the film nationwide. Director Sally Colón-Petree will be in attendance for the Q&A following the screening of the film.
Movie Trailer: https://vimeo.com/236159572
Women Like Us - an official selection of the Los Angeles Women's International Film Festival, features the story of three women as they take an incredible journey across the United States and Kenya, engaging with powerful women leaders who are confronting social injustices and creating change in such areas as sex trafficking, female genital mutilation, depression, teen suicide, women's access to education, homelessness, and more. Featuring Ida Odinga, former First Lady of Kenya; Caroline Barnett, co-founder of the Los Angeles Dream Center; CNN Hero Robin Emmons; Dianne Hudson, executive producer of the Oprah Winfrey show; and many more.
Produced by Dream On Productions, a Los Angeles based, female-driven, boutique production company established in 2004 by international filmmaker, television host and entrepreneur, Sally Colón-Petree. Dream On's goal is to produce creative, impactful projects that are educational, and crafted to bring awareness to subjects that will ignite the hearts of people globally and locally.
Women Like Us (2017, United States, Unrated, 92 min. All Rights Reserved); Directed by Sally Colón-Petree. featuring Catt Sadler, Sherri Shepherd and music by Grammy Nominated artist, Moby. A Gathr Films Release.
For interview requests contact: Angie St. Jean
angiestjean71@gmail.com
818-441-8833