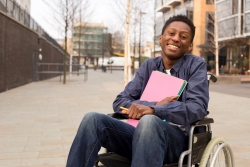 Long Beach, CA, April 04, 2018 --(
PR.com
)-- Today, the Law Office of Michael D. Waks announced its Third Annual Essay Contest to help Students Living with a Disability. The contest focuses on students who face unique challenges in attaining higher education and achieving career goals while living with a disability.
This annual opportunity is open to all high school seniors and undergraduate college students currently enrolled in a 2-year or 4-year accredited university or college, who are living with a disability as defined by the Americans with Disabilities Act (ADA)
Attorney Michael D. Waks invites applicants to submit an essay of 1,000 words or less on the following topic:
What educational challenges have you experienced due to your disability? How have you overcome these challenges in the past and how will you overcome them in the future? How has your disability influenced your choice of study and career?
"Furthering one's education and building a career can be tough. But as a Long Beach Personal Injury Attorney for over 30 years, I've seen how much harder it is for my young clients after being injured and disabled. That is why I established this annual Essay Contest to help disabled students reach their educational goals."
The primary objective of the Contest is to help disabled students advance their education through the provision of a monetary award. The $1,000 prize will be awarded to the author of the winning essay on August 1, 2018.
The deadline for submitting essays is August 1, 2018.
For more information and to submit essays, please visit: https://michaelwaks.com/law-office-michael-d-waks-essay-contest.
About The Law Office of Michael D. Waks
The Law Office of Michael D. Waks is a Long Beach Personal Injury law firm representing individuals who have been injured as the result of someone else's negligence. Michael Waks has over 30 years experience, providing each client with strong, compassionate representation. Michael handles each case personally to ensure clients receive the benefits of hiring an expert personal injury attorney.
The Law Office of Michael D. Waks
Website: michaelwaks.com
Email: Michael.waks@michaelwaks.com
Phone: 888-394-1174