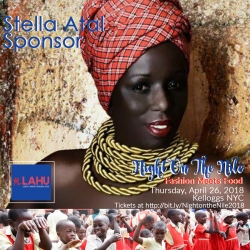 New York, NY, April 04, 2018 --(
PR.com
)-- On Thursday, April 26th, Lend a Hand Uganda - USA (LAHU - USA) will be hosting its fourth annual "
Night on the Nile
" fundraising gala at Kellogg's NYC. This year's theme will be "Fashion Meets Food," featuring Paris-based Ugandan designer Stella Atal and East African hors d'ouevres by Safari Cuisine and music by DJ Kpoh.
Last year's gala proceeds enabled 54 children to receive daily hot lunches at Ggangu Heritage Primary School. This year's proceeds will go towards the construction of a private kitchen and cafeteria at the school to further streamline the existing lunch program.
LAHU - USA differs from other organizations in their approach to supporting their beneficiaries. By sponsoring projects and programs through animal husbandry, mushroom farming and horticultural, guardianship, education, health and nutrition, equipping entire communities with the tools, training, and support they need to maintain and grow each project. LAHU - USA believes that this holistic approach fosters permanent change that will improve communities on a larger scale.
"Uganda is facing many hardships due to extreme poverty, lack of jobs and let's not forget the epidemic of HIV/AIDS that has left so many children as orphans that later become vulnerable. The team of Lend Hand Uganda - USA and on the ground in Uganda work hand in hand to help bridge this gap through education programs, community empowerment and development. Our work is ongoing with the help of our supporters & sponsors and we are working with one child, one school and one community at a time," says Founder and Executive Director of LAHU – USA, Harriett Zaffoni.
Tickets for the gala range from $50 for young professional to $99 for general admission and $288 for VIP tickets. The VIP ticket price represents the cost of sending one Ugandan child to school for a year. Sponsorship packages are also available and range from $250 to $5000. Tickets can be purchased online at: www.lahu-usa.org/events/nightonthenile and more information on sponsorship can also be found online at
www.lahu-usa.org/sponsorship
.
LAHU - USA is a registered 501(c) (3) non-profit organization, based in New York City. LAHU - USA is committed to facilitating empowering, sustainable change in both urban and rural Uganda.
To learn more and find out how you can get involved please visit the LAHU - USA website at http://www.lahu-usa.org/