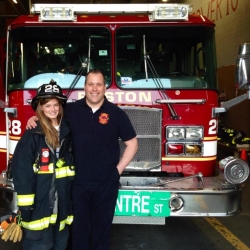 Westin, CT, April 06, 2018 --(
PR.com
)-- Five years after she was injured in the Boston Marathon bombing, and two years after her tragic death in a car accident, Victoria McGrath's family is launching a foundation dedicated to "opening doors and uplifting lives." The Victoria McGrath Foundation honors the memory of a remarkable young woman committed to bringing hope and care to vulnerable, underserved people. The foundation will support causes Victoria was passionate about including caring for children with disabilities, refugee children and veterans and their families.
"In establishing the foundation, we are finding a way to integrate our loss into part of our moving forward, carrying Victoria's vibrancy, which is more powerful than the loss," says James McGrath, Victoria's father.
The foundation's first "door-opening" project serves families impacted by disabilities and coincides with the fifth anniversary of the Boston Marathon bombing. Donations made now through race day, April 16, 2018, will send families affected by disability to a refreshing week at Joni & Friends Family Retreat in New Hampshire. This unique camp experience provides much-needed family fun, encouragement and support for families who often deal with life-altering disabilities in isolation the other 51 weeks out of the year.
Donations will be accepted through April 16, when Victoria's best friend runs the Boston Marathon and after several of her friends run the B.A.A. 5K. As Victoria's friends lace up in her honor, the public is invited to donate to the Victoria McGrath Foundation. The Foundation will match all donations received now through April 16, 2018 with a goal of sending five families to summer camp.
For more information about the Victoria Foundation and how to donate, visit www.victoriamcgrath.org.