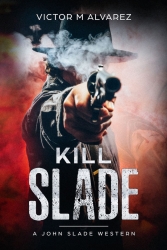 San Antonio, TX, April 07, 2018 --(
PR.com
)-- Victor Alvarez who grew up watching TV Western's of the early 60's has always been fascinated with the genre. His book "Kill Slade – A John Slade Western" is a fictional account based on some of those western stars he so admired and with actual stories of the American Old West, especially the stories of the Texas Rangers. Read more at Amazon.com/Kill Slade.
Readers of his books have expressed great enthusiasm for his stories as an Arizona bounty hunter, and in this is next novel.
Victor Alvarez is a new comer to the Western genre with this novel. "'Kill Slade' is packed-full with gunfights, action, intrigue and some sexual chemistry and keeps it true to the Western genre – an excellent read." – Murphy45
"Kill Slade – A John Slade Western" is published by
IngramSpark and the author
ISBN: 9780692082256
Available online at: Amazon.com/Kill Slade.
Hardbound book price $ 19.99
Kindle Edition price: $9.99
The author of "The Huntsman" and "No Time to Kill" newest novel "Kill Slade – A John Slade Western," tells of Texas Ranger John Slade, who in 1881, witnesses the tragic death of his wife at the hands of outlaws, and himself left dying beside his wife.
Victor Alvarez, an ex-federal law enforcement officer and retired bounty hunter, has written a well thought out novel about thirty-six year old John Slade, an ex-Texas Ranger and former bounty hunter, when in the cold dead of night, the Hatcher brothers break into his house, kill his wife Emily, and leave him for dead. But Slade is still breathing when his friend Josh Evans and his wife Lynn – Emily's twin sister – find him draped over his wife's body. After six months of recuperation, Slade and Evans set out on the trail of revenge.
Visit www.authorvmalvarez.com for contact details, review copies, photos and author bio, and further book releases.