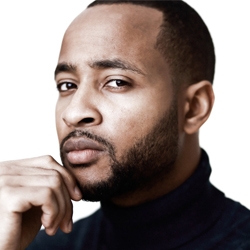 Los Angeles, CA, April 10, 2018 --(
PR.com
)-- Romaine Waite (Star Trek: Discovery) has joined "Christmas Calendar," a Netflix holiday film starring Kat Graham (The Vampire Diaries) and Quincy Brown (Dope, Fox series Star) directed by Bradley Walsh with Brad Krevoy producing. Waite will play Mitch, the brother-in-law to Abby Sutton (Kat Graham). The film follows Abby Sutton (Graham), an aspiring photographer who inherits a magical advent calendar from her deceased grandmother that seems to be predicting her future -and pointing the way to a new romance with a hunky admirer.
In addition to several indie films such as Salvage and Antisocial. Waite recently appeared as a guest star on NBC's Taken and recurred on Spike/Paramount Network's The Mist. He is repped by CDA and Pisgarie Entertainment.
Romaine's acting career began with numerous short and independent films. He has also demonstrated true acting dexterity in well-reviewed stage performances. As an actor, Romaine is committed to telling true-to-life stories that not only entertain, but also provoke frank conversations about the human condition and the state of our society. He believes in the positive transformative power of his craft - for himself as an actor and for the viewers as participants in the dialogue.
When asked about the role and project, "I am truly grateful for the opportunity to be working with such established individuals, it's a chance to learn something new about the craft and the business." He went on to talk about veteran producer Brad Krevoy "he's produced some of the movies I grew up on, that's amazing. I can't wait to talk with him about some of those classics."
The Netflix film begins production this month in Ontario, Canada - no word yet on a potential release date.
Social Media Links:
Facebook: https://www.facebook.com/romaine.waite
IMDB: http://www.imdb.com/name/nm4582495/
Twitter: https://twitter.com/romainewaite_
Instagram: https://www.instagram.com/romainewaite_
Pisgarie Entertainment is an independent film production company, dedicated to producing quality, commercially-viable feature films that inspire and entertain audiences worldwide.
www.pisgarieent.com