Leveraging AI to Help Healthcare Marketers Detect Signals of Audience Behavior
Arteric's President and Chief Strategist Shares Case Studies and Insights.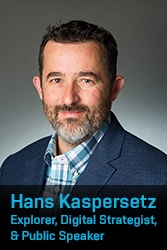 Summit, NJ, April 16, 2018 --(
PR.com
)-- For two decades, Arteric has developed websites and digital campaigns for pharma and biotech brands to connect patients and clinicians with life-changing information. That mission continues when Arteric president and chief strategist Hans Kaspersetz returns to the UpNext series at FutureTech Pharma to share how marketers can apply artificial intelligence to uncover signals that portend audience behavior.
On April 17, at the Convene Cira Center in Philadelphia, Pennsylvania, Mr. Kaspersetz will share two case studies during his presentation, titled "
AI - Super Hearing for Healthcare Marketers. Detecting Weak-but-Important Signals of Customer Behavior
." Mr. Kaspersetz will also participate in the conference's closing panel to review key learnings from all the sessions.
FutureTech Pharma is the next installment of the Medical Marketing and Media (MM&M) UpNext series of workshops for healthcare marketers. At this intimate venue, healthcare marketing professionals interact with thought leaders who will share case studies in marketing and ad technologies, analytics, data science, and multichannel marketing, ensuring that audiences take away actionable information.
"Sharing how technology and data make it possible to connect with audiences is an essential theme that runs through every presentation," states Mr. Kaspersetz. "Some sessions focus on technology, others emphasize strategy. As a result, attendees will come away with a comprehensive, leading-edge marketing toolkit to help them establish emotional connections with their audiences. I look forward to sharing insights about how customer behavior will change between now and 2020 and how that change is accelerating."
Doreen Gates, MM&M's vice president of sales, shares these thoughts on Mr. Kaspersetz's presentation. "MM&M is thrilled to have Hans back on deck speaking at MM&M's upcoming FutureTech for Pharma event. Hans is very knowledgeable and has an incredibly relatable approach when offering insights to our audience in these engaging workshop settings. As the emergence of artificial intelligence (AI) is fully entrenched in today's healthcare marketing world, I am excited to hear Hans share case studies that will help brands prepare for the new strategic realities that voice-driven search creates and for the personalization opportunities that AI generates."
Mr. Kaspersetz summarizes his participation at FutureTech Pharma this way. "Arteric applies AI to help clients target persons rather than personas. I'm looking forward to seeing how other groups are building more personal and more durable connections with their audiences."
Build Better Bonds
Arteric fuses strategy with technology to help global brands hear the questions that patients and healthcare professionals ask and to connect them with the information they need to take action. Contact Mr. Kaspersetz at 201.546.9910 to bond your brand with your audiences.
About Arteric
Arteric is a healthcare digital marketing agency built on a foundation of technology expertise - digital strategy, software engineering, search engine optimization, and search engine marketing. Arteric develops the strategy and the software - websites, mobile apps, and Web applications - that drive pharmaceutical and biotechnology digital marketing campaigns and connect the public and healthcare professionals with information about life-changing therapies, technologies, and devices.
Contact
Arteric
Ross O'Shea
201.546.9910
http://arteric.com

Contact