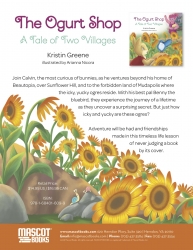 Raleigh, NC, April 18, 2018 --(
PR.com
)-- Follow Calvin, the most curious of bunnies, and Benny, his bluebird best friend, as they venture beyond the borders of their homeland, Beautopia. It's said that the ogres who live over the hill in Mudaplis are smelly and icky and mean. But when Calvin and Benny meet an ogre named Bella, she's not any of those. Even better, she offers them ogurt -- the ogre's special kind of yogurt.
Join Calvin, Benny, and Bella as they work to reunite two lands through the power of friendship and ogurt, of course.
Kristin Lacy-Locklear Greene lives in a Raleigh suburb of North Carolina with her husband, Steven, their two-year old son, Jaxon, and their dog, Zeus. Growing up as a child of an active duty Army Officer and living abroad, she learned at a young age that adventure is best served with friends, and that while those friends may come from different lands, they are likely not so different after all. She traveled frequently before graduating from the School of Journalism at the University of South Carolina and has had a passion for writing since she was a young child. Her husband is a local chef, and together they share a passion for food, travel, wellness, music, and cooking as a family. She recently resigned from a 12 year career in enterprise sales to spend more time with their son, study a bit of yoga, chase a little dream here and there, and reunite with the pen. Much of her time is spent at the local library, science museum, or strolling outdoors with her son and husband.
To set up an interview, reading, signing, or for information regarding "The Ogurt Shop," please contact Kristin Greene at klocklear1380@gmail.com.
"The Ogurt Shop" is registered with the American Wholesale Book Company, Baker & Taylor, Follett Library Resources, and Ingram, and available online with the following retailers:
About Mascot Books
Mascot Books is a full-service, multi-genre, independent book publisher and distributor. It is a hybrid publishing company headquartered in Herndon, Virginia. Co-founded in 2003 by Naren Aryal, Mascot has published more than 2,500 books in a variety of genres, including fiction, nonfiction, children's, cookbooks, and coffee table books. Learn more at
www.mascotbooks.com
.