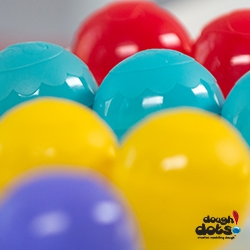 Vernon, CA, April 18, 2018 --(
PR.com
)-- A new toy for kids ages two to six makes its way to the preschooler's marketplace. Designed to give kids options, it's a two-in-one toy that parades simply as dough in a ball. But the truth is, the ball is the real star. Easily manipulated by little hands with little brawn, think of it as forward-thinking packaging that ups the ante on educational fun.
With a gentle tap to Dough Dots!™ edges, they open to reveal a plethora of potential that bolsters dexterity, and motor skills. When easily opened and closed, kids will hear a little audible snap signals the beginning of creativity. Moreover, animal carvings on the ball make an impression on the dough if it's inside or outside of it. The dough will not get stuck in the container like traditional tubs and each ball is airtight to keep the dough fresh at all times.
Licensed through Fisher Price and created by United Pacific Designs, Inc. (UPD), Dough Dots!™ are slated to come in multiple variations. Some packages will include specialized cutting utensils in the shape of animals. For the launch, however, four simple and differently colored balls with non-toxic dough inside will be on tap in specialty retail stores nationwide.
Shahin Dardashty, the CEO of UPD, said of the new preschooler product, "The surprise ball gives preschoolers a timeless shape to play with. You can stack them, roll them, play ball, knock them into each other. The possibilities are endless."
For more information visit
https://dough-dots.com
About United Pacific Designs, Inc.:
In the industry for over twenty-years, United Pacific Designs, Inc. supplies licensed merchandise directly to wholesalers and retailers within the U.S. The company's first proprietary product is Dough Dots!™.