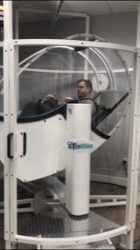 Orem, UT, April 25, 2018 --(
PR.com
)-- GyroStim is a computer controlled, multi-axis rotating chair that combines vestibular stimulation with multi-sensory processing exercises. Using an interactive laser targeting system to stimulate the brain, the technology promotes neuroplasticity, which can lead to improvements in brain function, overall health and emotional well-being. This safe and comfortable treatment engages patients physically and cognitively to optimize outcomes.
Dr. Hatch explains, "My passion, dedication and drive come from a time in my life when I suffered a devastating brain injury. Nobody around me knew what I was dealing with and even I didn't realize how hard it was for me until I repaired the function in my brain. School was such a struggle and I was slower than most kids in reading and test taking. This experience gave me a genuine and sincere desire to help all those I can get through a difficult health crisis."
According to Dr. Woolstenhulme, one of the physicians at the Brain Rehab Clinic, "GyroStim provides 3 dimensional 'brain-based' training to challenge and improve hand-eye coordination, reaction time, balance, mental acuity, spatial and situational awareness. This translates into improved athletic performance." To ensure each patient's treatment is progressing at an appropriate pace, quantitative and qualitative data are collected and monitored.
Universities and research institutions pursuing a greater understanding of the vestibular system have utilized GyroStim therapy with great success. It is classified as a non-significant risk device, and has been approved by multiple IRBs.
Brain Rehab Clinic is pleased to offer this new treatment model, and is confident in the health benefits patients will experience from this technology.
Contact Details:
Brain Rehab Clinic is located at: 1365 W. 1250 S., Suite 101, Orem, UT (This is the LandVoice/Domega Building). Our phone # is 801-766-6580.
Email: office@brainrehabclinic.com
Web-site: www.brainrehabclinic.com
Instagram: @brainrehabclinic
Facebook: https://business.facebook.com/Brain-Rehab-Clinic