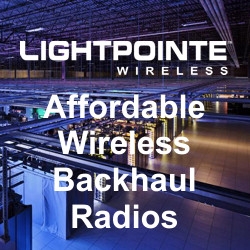 San Francisco, CA, April 26, 2018 --(
PR.com
)-- LightPointe, a manufacturer of outdoor 60 GHz and 80 GHz point-to-point radios, and its partner KLA Laboratories, an IT integrator, announced the sale of multiple 10 Gbps backhaul radios to a major telecom service provider. LightPointe's AireLink Series radios were installed as part of their customer's redundant IT infrastructure and risk management strategy, providing wireless connectivity to data centers. In addition to end-users obtaining unsurpassed network uptime, the deployments provide faster-than-fiber access to cloud-based data for employees, which enhances business operations efficiency and reduces operating expenses. KLA's customers include Local Exchange Carriers and Internet Service Providers which deploy wireless bridges.
"The proliferation of data warehouses and cloud-based information—and the need to have equipment and connectivity redundancy for reliability—is driving demand for high capacity, Ultra Low Latency wireless solutions," said Dr. Heinz Willebrand, CEO of LightPointe. "Data center downtime cost organizations millions of dollars. IT professionals increasingly deploy both wired and wireless connections to remote business locations and data centers where information and Software as a Service (SaaS) reside on the cloud. It's an honor to be selected by KLA for 10 Gbps radios for their customers—especially mission critical applications for hotels, businesses, and entertainment venues in Las Vegas which have demanding real-time security, reservations, Customer Relationship Management (CRM), and financial data requirements that require maximum network uptime."
According to the Ponemon Institute, a data center outage can cost an organization US$7,900 per minute. In a research study, 91% of respondents said they experienced unplanned outages in the last 24 months with an average incident lasting 86 minutes—which is about US$680,000 per incident. Organizations deploy wireless to increase uptime, either owning radios themselves or acquiring via Platform as a Service (PaaS) vendors.
"After evaluating competing 10 Gbps radios, we selected LightPointe because of performance advantages such as power output for the link distance and their excellent support in previous deployments," said Glen Sutphin, a director for KLA. "Our customers include carriers and businesses which demand the best solutions available."
About LightPointe
LightPointe (www.LightPointe.com) manufactures wireless bridges for enterprises, Data Centers, 4G/5G/LTE carriers, and Ultra Low Latency (ULL) applications, including High Speed Trading. High capacity wireless solutions are integral to N+1, 2N, and 2N+1 data center redundancy, helping reduce costly downtime. Backhaul radio redundancy is essential for Data Center Infrastructure Management (DCIM) for Enterprise, Managed Services, Colocation, Wholesale, and Cloud applications.