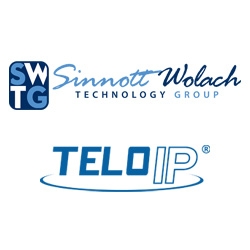 Palm Beach Gardens, FL, April 27, 2018 --(
PR.com
)--
Sinnott Wolach Technology Group
, a leading provider of next-generation network and information security solutions, has partnered with
TELoIP, Inc.
, the creator of powerful software-defined network (SDN) solutions for mission-critical applications, to offer managed SD-WAN solutions for enterprise customers throughout Florida.
With cloud adoption on the rise, enterprise networks are under increasing pressure to deliver cloud applications with scale and performance requirements that go beyond MPLS. "Our customers have long relied on MPLS for the combined benefits of application quality assurance and network reliability, but MPLS was never designed for cloud-networking requirements we see today," explains Jeff Wolach, Vice President and Chief Technology Officer for Sinnott Wolach Technology Group.
SD-WAN has emerged as a way to scale bandwidth speeds while increasing the enterprise network's agility for delivering cloud applications. Customers use SD-WAN to leverage low-cost, high-speed broadband internet access circuits to augment or replace MPLS. Customers can typically achieve ROI savings in the range of 50% to 70% when they migrate from MPLS to SD-WAN, with one key savings variable being how much the customer continues to spend on MPLS after the SD-WAN migration.
TELoIP provides innovative SDN technology that autonomously manages broadband internet connections to increase the visibility and performance of cloud applications. The TELoIP solution works as a Virtual Intelligent Network Overlay (VINO) that optimizes packet delivery for priority cloud applications such as Unified Communications with features like no dropped calls on failover.
VINO SD-WAN solutions create a customer protected route domain that securely connects all the distributed remote offices, mobile workers and IoT endpoints while simultaneously optimizing user quality-of-experience for cloud services. As Wolach describes, "VINO adds quality assurance to broadband, giving MPLS customers the means to achieve the full cost and agility advantages of SD-WAN without any sacrifice in performance or reliability."
"The key to SD-WAN success is having a knowledgeable solution provider that fully understands the customer needs and knows how to integrate all the underlying technologies," says TELoIP CEO, Roger Davis. Sinnott Wolach Technology Group (SWTG) has a depth of experience in WAN and network security. Over the past 12 years, SWTG has partnered with a range of leading technology providers to deploy and manage network and security solutions for customers throughout Florida that include state and local governments, small to medium enterprises and Fortune 1000 companies. "We are thrilled to partner with the customer-focused team of technology experts at Sinnott Wolach Technology Group."
About Sinnott Wolach Technology Group —
Sinnott Wolach Technology Group
(SWTG) is a leading provider of Next-Generation Network and Information Security Solutions & Services. Through partnerships with leading technology providers — we offer solutions for high-level network monitoring and deep packet inspection as well as solutions for Network Access Control, WAN Optimization, Vulnerability & Threat Monitoring, Monitor & Block Data Leakage, and Endpoint Security. We provide solutions to Fortune 1000 companies, State & Local Government Agencies, as well as many small / medium business organizations throughout Florida. The company was founded as MS Networks in 2000, expanded in 2006 and changed its name to Sinnott Wolach Technology Group, Inc.
About TELoIP — TELoIP is the creator of powerful, software-defined wide-area networks (SD-WANs) for challenging locations that require high availability and real-time performance for business-critical cloud applications. Hundreds of businesses across North America depend on TELoIP's patented VINO architecture to plan and provide secure, reliable, high-performance networks for their voice, data and video communications needs, whether they rely on public or private clouds. For more information about TELoIP, please visit www.teloip.com or call 866-901-3268.