TELoIP Releases New SDN Orchestration Enhancements
VINO Portal 2.0 Updates Accelerate Provisioning, Productivity and User Experience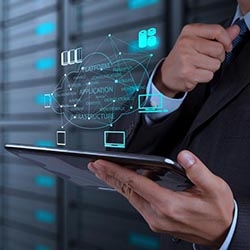 Toronto, Canada, May 01, 2018 --(
PR.com
)--
TELoIP Inc.
– the creator of powerful software defined wide-area network (SD-WAN) solutions for mission-critical applications – today announced a new product release of their VINO Portal that further enhances cloud-based efficiency for network orchestration.
TELoIP SD-WAN solutions are delivered as-a-service, sold exclusively through certified channel partners. Each customer gets a professionally managed Virtual Intelligent Network Overlay (VINO) that is remotely managed though TELoIP's multi-tenant cloud orchestration platform known as VINO Portal. "Service Providers are expecting more from SDN than just new products and features," describes Vice President of Sales and Marketing, Michael Gagnon. "They are counting on SDN to drive value through increased operational efficiency and better control of the customer experience."
Initially released in 2015, VINO Portal is purpose-built to manage end-to-end user Quality-of-Experience through an SDN cloud overlay. The portal consolidates the full lifecycle for VINO products into a single pane of glass for managing everything from order entry and provisioning, all the way though ongoing monitoring and service management. As an early innovator for cloud SDN orchestration, TELoIP was granted 34 claims in US patent number 9426029 entitled, "System, apparatus and method for providing improved performance of aggregated/bonded network connections with cloud provisioning."
With partners requesting greater control, increased visibility and quicker response times, VINO Portal 2.0 release delivers. "We've extended much more functionality to our partners and dramatically reduced average installation times, which are now typically less than five minutes," explains TELoIP Chief Technical Architect, Arun Pereira. "There are foundational changes that empower Service Providers to be more self-sufficient, and allow us to be more responsive to feature requests moving forward."
VINO Portal release 2.0 includes multiple refinements and new features. The graphic user interface is more modern with cleaner dashboards to further streamline user productivity. Network data analytics and reporting have been re-architected for faster screen loads that accelerate the portal user experience. Additional configuration options have also been added to give Service Providers more control over application and security policies, plus enhanced management for virtual network functions embedded in the branch CPE appliances.
TELoIP manages an SDN overlay network which extends the reach of VINO services throughout North America, and each VINO site license includes the cloud-managed VINO Edge CPE device, optimized cloud access, SD-WAN transport, plus centralized network orchestration through VINO Portal. VINO solutions include patented automations that can be fine-tuned for delivering real-time and business-critical cloud applications over low-cost broadband connections. "We've packaged all the SDN components into Network-as-a-Service offerings that accelerate market entry for
Service Providers
and simplify SD-WAN adoption for customers," added Gagnon.
About TELoIP – TELoIP is the creator of powerful, software-defined wide-area networks (SD-WANs) for challenging locations that require high availability and real-time performance for business-critical cloud applications. Hundreds of businesses across North America depend on TELoIP's patented VINO architecture to plan and provide secure, reliable, high-performance networks for their voice, data and video communications needs, whether they rely on public or private clouds. For more information about TELoIP, please visit
www.teloip.com
or call 866-901-3268.
Contact
TELoIP, Inc.
Todd Davis
+1-877-783-5647 ext. 1007
www.teloip.com/

Contact