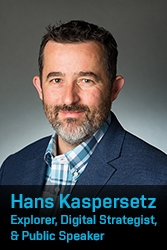 Summit, NJ, May 04, 2018 --(
PR.com
)-- For two decades, Arteric has led pharmaceutical and biotech brand teams through the selection and implementation of complex emerging marcom technologies. Scouting the digital landscape and educating clients are how Arteric helps marketing teams see opportunities that others miss and to transform those events into competitive advantage.
Arteric's ongoing education program will continue on May 15 at the 2018 BioPharma eMarketing Summit West, where President and Chief Strategist Hans Kaspersetz will share two case studies during his presentation titled "
AI - Super Hearing for Healthcare Marketers. Detecting Weak-but-Important Signals of Customer Behavior
."
BioPharma eMarketing Summit West is a TED-style venue that features an audience of more than 200 marketing executives from pharma, biotech, and medical device organizations. More than 45 thought leaders from companies such as Johnson and Johnson, Pfizer, Daiichi Sankyo, and Microsoft will share insights and case studies on leading-edge issues such as:
· Utilizing big data to tell stories and to streamline pipelines
· Establishing metrics to understand the effectiveness of a digital marketing strategy
· Capitalizing on disruptive marketing
"Detecting and capturing audience signals will be a central theme emphasized throughout several Biopharma eMarketing sessions," states Mr. Kaspersetz. "At the core of every Arteric digital strategy is the integration of the reality that customers are experiencing our brands across hundreds of micro-moments. Anticipating consumer behavior, identifying relevant content topics, and developing a continuous and cohesive customer experience require exceptional listening skills. This is why Arteric is applying artificial intelligence to identify weak-but-important signals of audience behavior. Arteric's goal is to create a customer experience that anticipates the customer's needs and individuality."
Mr. Kaspersetz previously discussed the role of AI in healthcare marketing at the East Coast gathering of the Biopharma eMarketing Summit. "We are delighted to have Hans join us in San Diego this year for the BioPharma eMarketing Summit," states Mark Coulter, co-founder & CEO of conference organizer Curtis & Coulter. "Arteric's expertise and unique perspective on using AI as a tool for healthcare providers will provide valuable insight into a fascinating and important topic."
For Mr. Kaspersetz, sharing Arteric's experience at meetings like Biopharma eMarketing Summit is a natural fit. "Pushing boundaries and exploring the possibilities that technology creates are central to Arteric's culture. Conferences like Biopharma eMarketing West attract like-minded thought leaders and audiences. When I share the results of Arteric's research efforts at venues like this, I consistently come away with new perspectives."
Wortk With Arteric
Call Arteric at 201.546.9910 to capture the insights that bond audiences to your brand. Ask for Hans Kaspersetz. The Arteric team is looking to take on new challenges.
About Arteric
Arteric is a healthcare digital marketing agency built on a foundation of technology expertise — digital strategy, software engineering, data, search engine optimization, and search engine marketing. Arteric is the digital agency that will propel your clinical trials recruitment, pre-market shaping, disease state education, brand launch, or brand revitalization forward with digital insights and execution that cannot be matched.