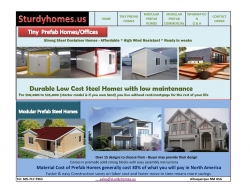 Albuquerque, NM, May 24, 2018 --(
PR.com
)-- A recent trip by executives of Sturdy Homes to China ended up in signing orders of container type homes and steel frame prefabricated homes for North American markets. Container homes are made from same chassis and frame specification of sea freight containers but the walls and roofs are made of rigid hard core sandwich panels that keep heat and cold out.
Similarly, steel framed prefabricated houses are made to withstand high winds, fire and earthquakes.
Emphasis is on getting houses that are natural disaster proof.
The cost of these homes are 50 to 60% cheaper to build and can be erected in days rather than months. Labor costs are reduced by 60% as less labor is needed and install time is quick.
Container type houses, due to their low cost, can be used for backyards, grandma or mountain retreats as they have kitchen and shower facilities. They can also provide temporary housing for disaster areas as well as to accommodate the homeless population. Unlike freight containers that come in 8' width for road transport, Study Homes are available in any width as they are not shipped on trucks. They are shipped in flat-packs for on site assembly.
Modular Steel Homes are mostly made to order and shipped in parts for onsite construction as per the customer's requirement in containers. Any size, any design can be made. A typical 2,000 sq. ft house will cost around $110,000 in material and labor costs (without land). The house can be ready in 3 weeks for occupancy if building inspectors can keep up with the pace.
For more information visit www.sturdyhomes.com