UAB Medicine Wayfinding App by Connexient Takes You from Parking Spot to Doctor's Office, and Everything in Between
University of Alabama Medicine launches a New Mobile App in the hospital to help patients, visitors and staff find their way from the parking lot to the Doctor's office. MediNav by Connexient is the leading digital wayfinding solution for hospitals.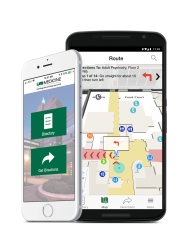 New York, NY, May 10, 2018 --(
PR.com
)-- Finding your way to your doctor's office at
UAB Medicine
just got easier. So did finding your way to the parking lot, the coffee shop and the restaurant across the street. Introducing UAB Medicine
Wayfinder
, the UAB Medicine wayfinding app, available on mobile devices and as a web version for desktop use.
UAB Medicine Wayfinder, using the MediNavTM Navigator Edition 2.0 wayfinding system from Connexient, makes finding and reaching locations in and around the UAB Medicine campus much easier. This free app provides step-by-step directions with functionality similar to Google Maps, enabling patients and their families, guests, and staff to reach destinations with ease and reliability, anywhere on the medical campus.
The app covers UAB Medicine's main campus buildings indoors and out. It will lead users to the front door of outlying clinics and UAB Hospital-Highlands. UAB Medicine Wayfinder provides indoor and outdoor turn-by-turn navigation with voice guidance and visual references. It links clinic areas with parking lots, gift shops, guest services, and nearby dining options and hotels. It even remembers where you parked your car to lead you straight back to it.
"We are very excited to roll out UAB Medicine Wayfinder as a service to our patients, guests and staff as they navigate our busy campus," said Jordan DeMoss, vice president of
UAB Hospital
. "The app and desktop versions provide maps and directions to clinical areas such as the Kirklin and Whitaker clinics of UAB Hospital, while also offering guidance to find clinics, inpatient units, pharmacies, laboratories and other resources. The app even provides a directory of health care providers."
The app and desktop versions map the locations of banks, grocery stores, gas stations and other business services near UAB.
UAB Medicine Wayfinder is available in a mobile version for both iOS and Android devices, as well as a web version for desktop use. Within the medical campus, only a Bluetooth connection is needed to use the app. The desktop version provides the capability to print paper directions. The app is available at the App Store by searching for UAB Medicine Wayfinder, or click on UAB Medicine's
Wayfinder page
. A video demonstrating the app is available on the page or by clicking
here.
The app is powered by Bluetooth LE Beacon technology, which emits radio transmissions between the phone and installed fixed locations. There are 1,534 beacons arrayed across the UAB Medicine campus. The app covers 10.7 miles of routable pathways and over 5 million square feet of space with 135 points of interest or destinations covering seven buildings and three parking garages.
"Connexient is thrilled to launch MediNav at UAB Medicine," said Mark Green, Connexient CEO and co-founder. "UAB is consistently recognized as a most-wired hospital by Wired Magazine and is among the 20 largest hospitals in the United States. Couple that with our state-of-the-art digital wayfinding solution and you have a world-class patient experience."
Contact
Connexient
Sarah Stabile
646-453-9453
connexient.com

Contact