Denali Advanced Integration Partners with The Seattle Storm to Introduce Special "Birds Nest" Section of KeyArena
The "Birds Nest," presented by Denali, will host local non-profits who align with the mission and values of both organizations, allowing low-income families and groups to attend Seattle Storm games.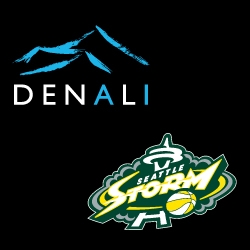 Seattle, WA, May 17, 2018 --(
PR.com
)-- The Seattle Storm, in partnership with
Denali Advanced Integration
, a global leader in Enterprise IT has announced the "Birds Nest," a section of KeyArena that will host local non-profits who align with the franchise's mission and values.
"As we continue to spotlight those who are working to better our community, we are excited to roll out the Birds Nest at KeyArena," said Storm President and GM Alisha Valavanis. "Thanks to Denali, this partnership will highlight those who play such a key role in our community."
The "Birds Nest" was created as part of StormCares and lies within the StormAssist pillar. In February, the franchise launched its "StormCares" platform, highlighting five initiative pillars anchored in the organization's focused and intentional efforts in the community. The "Birds Nest" is no exception, as it allows low-income families to attend Storm games, giving kids in the community an opportunity to adopt Storm players as role models.
"We are excited to partner with The Seattle Storm to help strengthen our community and make a positive impact in the lives of our youth," said Denali CEO and Founder Majdi Daher. "Denali and The Seattle Storm are culturally aligned and through the 'StormCares' platform we share many of the same values. We look forward to seeing our collective efforts empower kids to dream big and achieve their full potential. Go Storm!"
A total of 50 seats will be reserved solely for youth in the "Birds Nest," and chaperones and/or parents can also be included in the final headcount for tickets. The Storm will provide these groups an exciting gameday experience, highlighted by coverage on KeyArena's video board and special "Birds Nest" signs to wave during the game.
In addition, the group with the highest show rate for the season will win the StormAssist MVP award, which includes a basketball signed by the 2018 Storm roster, visit from Doppler to the local club, personal "thank you" video from a Storm player and coverage on the Storm's social media platforms.
The Storm tips off the 2018 slate against the Phoenix Mercury on May 20 during Opening Night presented by Swedish, with start time set for 6 p.m. PT at KeyArena. The first 3,000 fans in attendance will receive a Sue Bird bobblehead to celebrate her league record-breaking assist last season at Washington, and her game-worn jersey from that contest will also be on display, allowing fans to take photos and capture a visual taste of WNBA history.
About Denali Advanced Integration
Denali Advanced Integration delivers Enterprise IT solutions and services, powered by strategic experts and best of breed technologies to help guide our clients through the most complex IT challenges. For more than 25 years, Denali has been one of the most trusted and prominent technology providers in North America, providing a comprehensive set of technology solutions to enable our customers to grow, maintain and expand their business globally. Learn more at www.Denaliai.com.
About the Seattle Storm
The Seattle Storm is a two-time WNBA championship team committed to bringing a premium professional basketball and entertainment experience to a fan base rich in tradition and support. The organization places high value on community and building platforms to positively impact the overall entertainment, attraction and economy of the Puget Sound region. In addition, the Storm is dedicated to local youth development in the areas of fitness and wellness; with a special emphasis on inspiring leadership, motivation and the empowerment of girls and women. For more information, please visit StormBasketball.com.
Contact
Denali Advanced Integration
Ahmad Daher
425-943-5578
www.denaliai.com

Contact