OpenGift and Wealthman Announce Global Anti-Fraud Challenge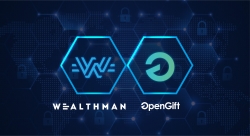 London, United Kingdom, May 25, 2018 --(
PR.com
)-- Open Source Software (OSS) development platform OpenGift and Wealthman will partner to enhance cybersecurity and fraud protection of OSS.
"When it comes to software security, there is no optimal answer," says London based Wealthman CEO Andrei Huseu. "Open Source Software is subject to malicious attacks and hacking, but it's the only kind of software that can be checked for security without the need to blindly trust someone." Andrei observes: "Private software cannot be checked; this makes users blindly trust the assumption that the software is bug-free; this is unsafe and potentially dangerous."
That is why the goal of this collaboration is to create the code verification algorithm for security of most popular OSS to bring the safety into the open source community.
"Verification can best be initiated by the community members on a platform like ours," says OpenGift commercial director Amin Saleem, also in London. "We coined the term 'crowd-gifting' to describe how our open-source developers work across organizational boundaries to add value and independent review to each other's projects. As far as I know, we're the only platform doing this, so we're pleased to have Wealthman as a partner to try out the testing model."
The group that consists of both OpenGift and Wealthman experts will elaborate a uniform policy for checking open-source codes. Then, Wealthman team will disclose the open part of its backend code in the OpenGift ecosystem, and OpenGift developers will perform the verification of Wealthman's anti-fraud protocol for individual investment management using the newly-created policy.
Wealthman individual investment management protocol aims to secure data and can potentially disrupt $85 trillion wealth management industry. That is why it should be thoroughly examined before it becomes accepted worldwide.
About Wealthman
Wealthman Ltd. is a UK-based company developing protocols and microservices that facilitate the building of trustless wealth management services. Wealthman uses consensus decision-making to overcome fraud and to bring efficiency in wealth management. It is already in production, and working with private clients. The market value of its peers such as Melonport has grown 14 times in one year and Iconomi - 10 times in two years.
For additional information please visit:
www.wealthman.io
About OpenGift
OpenGift is a platform for monetizing the development of Open Source Software. Focused on leveraging distributed ledger technology to solve real-world problems of legacy enterprises, it operates on the Hyperledger blockchain developed by IBM and the Linux Foundation. OpenGift's alpha version is already in operation.
For additional information please visit: www.opengift.io.
Contact
Wealthman
Elena Pinchuk
+7 921 432 3943
wealthman.io
https://t.me/wealthmanofficialgroup

Contact