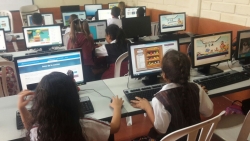 Woodinville, WA, May 29, 2018 --(
PR.com
)-- Artificial Intelligence (AI) opens a door to a new way of learning. It can help to develop systems which adapt to individual students, learn along with them, and provide the best delivery of materials for that particular individual.
Distance Teaching and Mobile learning (DTML) is in the process of developing such a platform. The platform leverages Microsoft Bot Framework, Azure Cognitive Services, Google Words to Vector technology and NTLK packages developed by the Department of Computer and Information Science at the University of Pennsylvania to create an immersive learning experience. The AI system is trained on words from a set of children's books, movies, and cartoons with supervised algorithms. The trained models are exposed in the set of REST APIs which power learning actives on the platform.
The current platform offers
16 games connected into single network
powered by that set of APIs. The System knows and monitors each user and offers specifically tailored learning materials for each student.
In March 2018, the organization received a
Champion award at Hack-For-Good
event organized by Microsoft. It validates DTML's innovative approach to distance teaching.