Safety Center's Youth Advisory Council Partners with Allstate for Teen Safe Driving Event
Safety Center's Youth Advisory Council (YAC) in partnership with Allstate insurance agent Bridgit Thurman and her team will hold a year-end event bringing awareness to distracted driving in teens coinciding with the 100 Deadliest Days of Summer.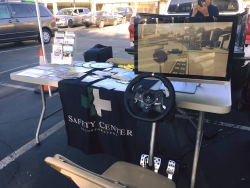 Sacramento, CA, May 30, 2018 --(
PR.com
)-- The period between Memorial Day and Labor Day is coined the 100 Deadliest Days for good reason, during this is when the average number of deadly teen driver crashes climbs dramatically compared to the rest of the year.
Motor Vehicle crashes are the leading cause of death for teens.
Teens have the highest crash rate of any age group. According to an article on We Save Lives- Highway Safety Advocates:
An average 260 teens are killed in car crashes each month during the summer, an increase of 26% compared with the other months of the year.
60% of teen crashes today are caused by distracted driving.
Surprisingly, the top distraction for teens is other passengers, accounting for 15% of teen driver crashes, compared to 12 % caused by texting or talking on a cell phone.
For every 100,000 Americans under the age of 21, 1.2 people were killed in drunk driving fatalities in 2015.
"Not only are teens themselves more likely to die in car crashes, they also have the highest rates of crash involvement resulting in the deaths of others, including passengers, pedestrians or occupants of other vehicles." – Newsday
Armed with that information, Safety Center's YAC members were tasked to bring events to their schools within the 2017/2018 year. The Safety Center YAC members have rallied continuously throughout the year spreading the message of teen safe driving issues to the community. The YAC received a proclamation from the Sacramento County Board of Supervisors in their efforts and presented at the Elk Grove School District having their voice heard in an attempt to create policy change with safety measures in student handbooks.
In partnership with The Allstate Foundation, which funds the YAC, Allstate agent Bridgit Thurman and the Safety Center will converge on May 30, 2018 for this school event just in time to spread the message before school lets out for the summer. Of course it is parents who can ultimately lead the way- speaking to their children, being aware of their actions and empowering them to make better choices. According to the National Safety Council, a recent survey reported that 91 percent of parents who use their cell phones do it in front of their teens knowing that they are "one of their teens' primary driving teachers."
For More Information, Contact: Gail Kelly, Safety Center Incorporated at 916-438-3381 or gail@safetycenter.org, www.safetycenter.org
About Safety Center
Safety Center Incorporated is a 501(c)(3) not-for-profit organization founded in 1934 whose mission is to reduce injuries and save lives by empowering our community to make positive life changing decisions. For more information, visit www.safetycenter.org.
About The Allstate Foundation
Established in 1952, The Allstate Foundation is an independent, charitable organization made possible by subsidiaries of The Allstate Corporation (NYSE: ALL). Through partnerships with nonprofit organizations across the country, The Allstate Foundation brings the relationships, reputation and resources of Allstate to support innovative and lasting solutions that enhance people's well-being and prosperity. With a focus on building financial independence for domestic violence survivors, empowering youth and celebrating the charitable community involvement of Allstate agency owners and employees, The Allstate Foundation works to bring out the good in people's lives. For more information, visit www.AllstateFoundation.org
Contact
Safety Center
Christine Davidson
916-438-3385
www.safetycenter.org
800-825-7262

Contact