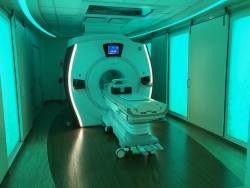 Denver, CO, June 01, 2018 --(
PR.com
)-- Presbyterian/St. Luke's Medical Center is pleased to offer the latest in MRI technology starting June 2018. The new General Electric Optima MR450w 1.5T with GEM Suite coil technology provides quiet technology, unique lighting including high resolution LED screens, a table surface designed to increase comfort, advanced imaging capabilities and wide-bore architecture to add space around patients who struggle with confined spaces. This suite is truly one-of-a-kind in Colorado.
"This state-of-the-art MRI technology ensures the patient receives a high quality scan in a comfortable, personalized setting," states Maureen Tarrant, President & CEO at Presbyterian/St. Luke's Medical Center. "Presbyterian/St. Luke's invested in this technology to provide a patient-centered experience with personalized options and a spacious setting to reduce anxiety."
About HealthONE's Presbyterian/St. Luke's Medical Center (P/SL)
For more than 135 years, Presbyterian/St. Luke's Medical Center (P/SL) has been meeting the healthcare needs of patients and their families from across the Rocky Mountain and Great Plains regions, and from around the world. With more than 80 specialties, 1,200 specialists and primary care physicians and 1,800 employees, P/SL and Rocky Mountain Hospital for Children (RMHC) is the only tertiary/quaternary combined pediatric and adult hospital in this region. Leading comprehensive services include the Center for Minimally Invasive Surgery, Cardiovascular Services, Cancer Care, Blood & Marrow Transplant, Labor & Delivery/Mom & Baby, Maternal-Fetal Care, Orthopedics, Spine, Kidney/Liver Transplant, Hyperbaric Medicine, Wound Healing, Infectious Disease and more.