Azdel Onboard Provides Lighter Solutions for RV Manufacturers and RVing Families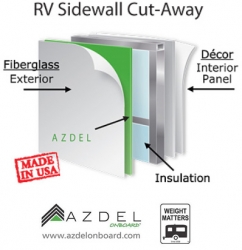 Forest, VA, June 05, 2018 --(
PR.com
)-- The RV season is about to go into full swing, and many are planning their summer activities nationwide. For some that includes purchasing a new RV. There are a lot of factors to consider when deciding which RV is right for you, including durability and long-term maintenance. From matching the right dry weight of the RV selected with a tow vehicle, to knowing exactly how heavy a payload can be carried inside, weight matters. An RV's weight can have a big impact on safety, as well as the overall cost of participating in the RV lifestyle.
RV construction materials contribute to their weight and can make them less fuel-efficient. Lauan plywood is typically used in RV construction. It is heavier than composite materials that can replace them. RVs also take on weight when wood is exposed to moisture. Wood and water don't mix, and RVs that are closed for weeks or months over the winter season are particularly susceptible to freezing and thawing that can allow water to seep in via roof seams. Natural fiber decomposition occurs causing rot, mold and mildew formation along with warping that can lead to delamination or separation of layers in the material reducing its strength no matter the age of the RV. Adhesive failure can occur when Luaun is exposed to water and temperature variations, which causes wet/dry cycles. Hot temperatures release formaldehyde in adhesives as they break down. It can cost thousands of dollars to repair or replace the rotted walls. Not only is this expensive to fix, but the mold, mildew and chemicals have an adverse effect respiratory health by contaminating the air inside the RV. Particle pollutants, like mold, can trigger asthma attacks, exacerbate symptoms of COPD and cause lung damage in the elderly and small children.
Composite materials made by Hanwha Azdel, located in Forest, VA, with their commercial applications center in Warren, MI, are products that can be used as an alternative to Lauan plywood. Composite materials are moisture resistant, lightweight, and stronger than wood, allowing for better fuel-efficiency. These puncture and impact resistant materials provide increased durability. With a higher insulation value than wood less heating and cooling costs are accrued and provide a quieter ride with less road and outside noise. Composite panels do not rot, warp, or emit airborne particle pollutants.
To find out more information visit
AzdelOnboard.com
. Details about where these products are available include a list of RV manufacturers to download. Stop-action video and photos show damage comparisons and how materials respond to temperature variations. Manufacturers who are interested in using Azdel composite materials in the RV construction process, should email onboard@azdel.com or call 810-280-3281.
Contact
Hanwha Azdel
Todd Wodzinski, VP of Global Sales & Marketing
810-280-3281
https://azdelonboard.com
DP Ball Advertising - agency
Dan Ball: 440-285-8164
dan@dpballadvertising.com

Contact
Multimedia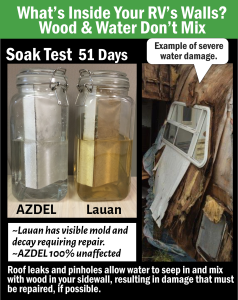 Soak Test with Lauan vs. Azdel Composite sidewall. Damage from wood and moisture causing rot, mold and warping leading to delmination.