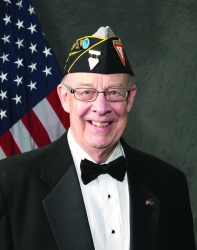 Burke, VA, June 09, 2018 --(
PR.com
)-- Thomas J. Snee of Burke, Virginia has been honored as a Prominent Business Leader for 2018 by Strathmore's Who's Who Worldwide for his outstanding contributions and achievements in the field of nonprofit associations.
About Thomas J. Snee
Thomas Snee is the Twelfth National Executive Director for the Fleet Reserve Association (FRA) which is a military nonprofit association headquartered in Alexandria, VA. They represent the U.S. Sea Services nationally and as advocates to preserve and enhance pay, benefits and quality-of-life programs for all of its over 50,000 Sea Service and family members. He serves on various boards and committees for military and Veterans benefits. He is the managing officer of the National Headquarters Staff, National Board of Directors and Co-Chairs the Military Coalition representing over 33 veteran organizations/associations of 5.5M Active Duty, Reserve, Veterans and Retirees. With over 25 years experience, he oversees the staff at headquarters, the legislative team and outreach with senior enlisted leadership. Mr. Snee also currently serves on the Commonwealth of Virginia's Catholic school certification, DFE Team.
Mr. Snee retired after 31 years with the U.S. Navy. He served as a Navy Master Chief/Surface Warfare Specialist, Vietnam Veteran. He has testified before the House and Senate Armed Services Affairs Congressional Committees. In 2014, he served as a panel member for the Senate Congressional Educational Reform for Educators.
Born in Cleveland, Ohio, Mr. Snee enlisted in the US Navy after high school graduation. He served as a Force Master Chief at Navy Recruiting Command in Washington, D.C., Command Master Chief, on the USS AMERICA (CV 66) and Navy Recruiting District in Chicago. He was the Curriculum Director/Course Supervisor for the Chief of Naval Technical Training in Millington, TN and Program Manager for the Chief of Naval Personnel Command for Senior Enlisted development. As a course manager, he was charged to develop measureable resources in joint leadership curricular studies to enhance qualitative training while reducing student attrition. Mr. Snee is a graduate of the Navy's Senior Enlisted Academy at the Naval War College in Newport, RI.
Thomas obtained a B.S. in Liberal Arts/Psychology from Excelsior College and a M.Ed. in Educational Leadership from George Mason University in 2006. In 2016, he was bestowed an Honorary Bachelor's Degree for Alumni Services from Excelsior College. Following his Navy Retirement, he worked at the FRA Headquarters as the Veterans Service Officer and Membership/Branch Development Coordinator. In August 2000, he transitioned careers to become a Middle School Teacher and Administrator. He was in charge of managing curriculum development for student assessments, appraisals and reviews for incoming high school freshman. He taught American History, Government, Geography, Economics and English for over 15 years.
Thomas is a member of the Fleet Reserve Association, Knights of Columbus, Surface Navy Association (SNA) and National Eagle Scout Association (NESA). His many accolades have been cited with numerous awards from several Who's Who organizations. In 2011 he was named Teacher of the Year, and inducted into the Distinguish Alumni Hall of Fame Award from the Willoughby-Eastlake Ohio Schools. Recently he was selected and listed in the "Top 100 Registry for Business Leaders and Professionals" and in April named the "2018 Top National Executive Director of the Year" by International Association of Top Professionals, (IAOTP). Mr. Snee has been recognized with a Lifetime Achievement Award in 2018, and as a Professional of the Year in 2018 from Strathmore's Who's Who Worldwide. He was recently honored on the famous Reuters Billboard in New York City.
Mr. Snee serves on many boards of directors including: Excelsior College in Albany, N.Y., Navy Memorial Foundation in Washington, DC and Board of Educators at Mount Vernon/Gunston Hall (historical sites). He is the author of the book, "What's Up, Life" by MindStir Publications of Portsmouth, NH, with his second book, "You Raise Me Up" scheduled for publishing in the summer of 2018.
Thomas was married to the late Karen A. Habina for 46 years, from Willoughby, OH. The Snee's have four children: Janet, of Springfield, VA; Denise, of Goose Greek, SC; David, a U.S. Navy Captain, of Houston, TX; and Timothy, of Woodbridge, VA. They have six grandchildren. In his spare time, he enjoys watching the History Channel and the Redskins.
"I am but a humble servant for the success of others. Output is the success of a total commitment and involvement. We must listen, lead, love, let go, mentor, coach, and then manage!" - Thomas J. Snee
For further information, contact
www.fra.org
.
About Strathmore's Who's Who Worldwide
Strathmore's Who's Who Worldwide is an international advertising, networking and publishing company based in Farmingdale, New York. They are proud to be able to satisfy their clients and continue to have repeat clientele due to their longevity and pride in their products and services. The Owners strive to connect business professionals to enhance their contact base and networking capabilities so they can get the acknowledgment and publicity within their industries and beyond. The Strathmore family has been providing these valuable services for over two decades. They target executives and professionals in all industries to be featured in their publication and on-line directory. Industries include business, law, education, healthcare and medicine, fine arts, IT, government, science, real estate, entertainment and many more accomplished fields. Professional profiles are listed in an annual hardcover journal and in a detailed, searchable database on the website www.strww.com.