Build Magazine Awards J/Brice Design International, Inc. Two Top Honors for 2018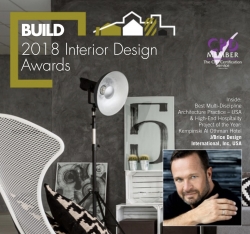 Boston, MA, June 05, 2018 --(
PR.com
)-- J/Brice Design International was awarded two major honors at
Build Magazine's Interior Design
Awards presentation for 2018: Best Multi-Cultural Architecture Practice USA, and best High-End Hospitality Project of the Year for the Kempinski Al Othman Hotel in Al Khobar, Saudi Arabia.
In announcing
J/Brice Design
as the double award winner, Hannah Stevenson, Build Award Chairman stated, "The renowned Interior Design Awards 2018 give recognition to the incredible work carried out by visionary firms and individuals stretching across an array of imaginative disciplines. Build recognizes the elite businesses whose innovation and ground-breaking designs have shaped and developed the appearance of the world over the past twelve-months."
The Kempinski Al Othman Hotel in Al Khobar, KSA is a new five-star property consisting of two towers and that offer sweeping views over the skyline. In addition to designing the lobby, restaurants, spa, meeting rooms and one of the largest ballrooms in the Saudi Kingdom, J/Brice created the high-end guestrooms and suites, as-well-as 18 luxury apartments that combine the ultimate in city living - elegance, space and comfort with the services and amenities of a five-star hotel.
The Kempinski Al Khobar follows 30 years of luxury property successes for J/Brice, that are valued at over $5 billion. Client engagements include Taj Hotels, Royal Tulip and boutique properties in Qatar that turned this uncut gem of an Arabian nation into a sought-after world travel destination. Major U.S engagements include the HMS Queen Mary, the iconic New York landmark The Helmsley Hotel, and, most recently 50 Liberty, which has broken all records as the most expensive residential development in Boston.
Founded in 1989, J/Brice ranks among the three largest independent hospitality design firms in the New York-Washington Corridor, whose designs can be experienced in luxury properties throughout the Arabian Peninsula, North Africa, Europe, and the Caribbean and throughout the United States.
The Best Multi-Disciplinary Architecture Practice Award for 2018 is the culmination J/Brice honors, among them: Top Interior Design Firm of The Year (2016), Boston's Most Inspiring Story (2017), Ten Fastest-growing Design Firms in the US; Certified Interior Design Giant since 1993, and Architectural Giant since 1995.
Accepting the awards, Ornstein said, "Since we work all over the globe, we have to be extremely nimble as our client tastes and esthetic sensibilities vary substantially from country-to-country, region-to-region. After 25 years, we have learned the nuances that enhance a property regionally, so what we designed for a luxury hotel in Saudi Arabia differs culturally and aesthetically from our work in neighboring Egypt and Qatar."
To create award-winning, cutting-edge designs while establishing a sense of place and unique environments that resonate with demanding high-end world travelers, Ornstein said, "I constantly travel with our design team. We have been around the world more times than I can count, visiting every continent, scouring world-class destinations for detail and inspiration. Doing so enables our designer teams to immerse themselves in the culture and esthetics, and fully experience the local groove. We spend a lot of facet-time with every client, examining the expectations of their guests and their unique brand positioning in the competitive hospitality market. It is always a challenge, always exciting and so far...never gets old."
Ornstein added, "Our commitment to highly personalized, well-thought-out design strategies and strong interpersonal relationships are essential to our strength and ability to provide hotel developers with design solutions that shape the vision of 21st Century hospitality with innovative, fashion-forward, tech-savvy environments. Our approach to hospitality design has always been based on a fashion-first perspective that focuses on the guest experience and relationship to the space and culture first and foremost.
"We draw much of our energy from the diverse multi-cultural environment we've established at J/Brice since the 1980s. Our designers come from every corner of the globe bringing with them their unique educational experiences, personal history and passion to the charrette."
Ornstein said, "We are currently working on a wide spectrum of projects that include a 100,000 square-foot summer palace on the Red Sea, an upscale café chain opening dozens a year with the expectation that within five years there will be over 3,000 locations, a planetarium, a 35,000 square foot video arcade, an aquarium, a boutique hotel in Mecca, multi-hotel properties in Times Square, and more than dozen luxury condominium towers throughout the US.
"Regarding the future of J/Brice Design International, we are currently looking into undertaking an array of new projects including work on super luxury resorts, and I foresee many exciting new collaborations that keep us busy for decades," said Ornstein.
Founded in 1989, J/Brice Design International, Inc. (www.jbricedesign.com) has become a global design firm, directing hotel and resort projects in excess of $5 Billion USD. The firm's signature engagements worldwide include the fabled HMS Queen Mary, Long Beach; TheHelmsley Hotel, New York; The Kempinski Hotel and Towers, AL Khobar, KSA, and the Jeddah, (KSA) Dusit.
J/Brice was twice named one of the Top Ten Fastest Growing Design Firms nationwide by Interior Design Magazine. It has also been recognized for its work with distinction with honors such as: Top Interior Design Firm of The Year, awarded by NEWH, the hospitality industry's largest professional organization, Best Upscale Hotel Design of the Year (The Westminster), Hotel of The Year (Wyndham), Intercontinental Hotel Group Renovation of the Year (The Holiday Inn Mart Plaza Chicago), Best Luxury Suite (Hilton Boston Back Bay), Most Ambient Hotel Lobby (Westin Nova Scotian),andBest Guestroom (The Muse, New York).
J/Brice Design International, Inc. is a globally preferred design group for all products for the Hilton Hotel Corp., Marriott International, Starwood Hotels, Intercontinental Hotel Group, and Hyatt Hotels. International credentials include work for TAJ Hotels, Kempinski, Royal Tulip, and boutique properties in Dubai, United Arab Emirates (UAE), Qatar, and The Kingdom of Saudi Arabia.
Jeffrey Ornstein has been a contributing editor to "Hotel Executive Magazine," and featured in "Boutique Design," "Hospitality Design," "Lodging and Hospitality," "Gulf Interiors," "Hotel Business," "The Commercial Observer," "Young Hotelier," "The Improper Bostonian," and "The Boston Sunday Globe."
He has served as a judge for the Hotel World Platinum Circle Awards and the Boutique Design Global Hotel Design Awards. Ornstein is also on The Board of Advisers at The New York School of Interior Design. Jeff was named one of Boston's 12 Most Influential People by "Scene Magazine," the comprehensive Bostonian lifestyle publication.
J/Brice Design Studios and Offices are located in Boston, Massachusetts and Dammam, the Kingdom of Saudi Arabia.
Contact
Pirozzolo Company Public Relations
Dick Pirozzolo
617-959-4613
www.pirozzolo.com

Contact
Multimedia
Complete article on Interior Design Awards to J/Brice Design for 2018: Best Multi-Cultural Architecture Practice, and best High-End Hospitality Project for the Kempinski Al Othman Hotel in Al Khobar, Saudi Arabia.