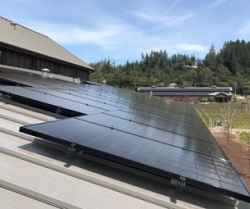 Novato, CA, June 07, 2018 --(
PR.com
)-- "Sustainability is very important to us, here at Comstock Wines," state Kelly Comstock-Ferris. "We are thrilled to have a system, designed for our needs, that helps reduce our impact on the environment while simultaneously supplying us with the energy we need to do what we love!"
Designed and installed by SolarCraft, a leading North Bay solar installer for over 35 years, the solar photovoltaic system is mounted on south-facing roof of the winery for maximum sun exposure, and minimal aesthetic impact as it faces away from the entrance. SolarCraft was also commissioned to design and install a 22 kW DC solar installation on a vacation residence on the property. This beautiful site is available as a luxury rental, powered by the sun.
Comstock's goal is to be energy independent – creating predictable energy and costs for their young winery while reducing their carbon footprint. "We feel quite privileged to be able to support Comstock Wines to become a solar-powered business," says Robert Gould, Director of Commercial Sales at SolarCraft. "Partnering closely with the ownership, we were able to navigate a number of code-related and supply challenges to make the project happen." Comstock joins a substantial list of responsible and smart vintners in using the sun to both grow their grapes and provide sustainable power to their wineries. They also are gaining the attention of many wine consumers interested in wines made in a more eco-friendly manner.
During the life of the system, over 8 million pounds of carbon dioxide generated by Comstock's operations will be eliminated. This impact is equivalent to removing air pollution produced by more than 10 million miles of driving over 25 years or the pollutants removed by 207 acres of trees in one year. The nearly maintenance-free system should pay for itself within 5-6 years, and last over 30 years.
About Comstock Wines
Bob and Sandy Comstock began growing grapes in Sonoma County's Dry Creek Valley in 2002. Over the years the idea of creating a boutique winery was born. In 2012, the perfect 17-acre vineyard in Dry Creek Valley became available and the idea of a winery became a reality. Kelly Comstock Ferris stepped into the role of General Manager, joined by veteran Winemaker Chris Russi. Together they worked to design and create this very special place we call Comstock Wines.
SolarCraft is 100% Employee-Owned and one of the largest green-tech employers based in the North Bay for over 35 years. SolarCraft delivers Clean Energy Solutions for homes and businesses including Solar Electric, Solar Pool Heating and Battery / Energy Storage. With over 7,000 customers, our team of dedicated employee-partners is proud to have installed more solar energy systems than any other company in the North Bay.
www.solarcraft.com
.