Arteric to Present on Practical Applications of Artificial Intelligence (AI) in Healthcare Marketing at Digital Pharma West
Two Case Studies Illustrate the Impact of AI on Accelerating Business, and the Insights That Result.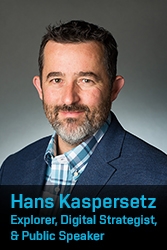 Summit, NJ, June 08, 2018 --(
PR.com
)-- From session titles like "The Future Day" and "Digital Pharma Innovation Lab," it's clear that leading-edge strategies on healthcare marketing will rule the day at the 2018 meeting of the Digital Pharma West conference, taking place from June 11 to June 13 at the Hyatt Regency San Francisco Airport. Digital Pharma West's forward-thinking agenda provides the perfect backdrop for Arteric president and chief strategist Hans Kaspersetz to share how Arteric leveraged artificial intelligence (AI) to help healthcare marketers discover unmet audience needs and uncover demographic opportunities that are invisible to contemporary market research.
In his presentation titled "
AI - Super Hearing for Healthcare Marketers. Detecting Weak-but-Important Signals of Customer Behavior
, " Mr. Kaspersetz shares the results from two case studies. The first case study is of a blockbuster prescription brand that uncovered the opportunity to more effectively connect with the target audience and tell a richer story. These insights led to 145% year-over-year growth in traffic. The second case study is for a well-known OTC cold, cough, and allergy brand that uncovered a new target audience and contributed to the brand exceeding their targets two years in a row. Arteric's work with AI was featured in the May 2018 issue of Medical Marketing and Media.
"Digital Pharma West attracts marketing and business development leaders who apply AI and other digital technologies across the spectrum of pharma development and healthcare marketing," explains Mr. Kaspersetz. "I'm looking forward to sharing how we added value to campaigns via AI, and equally excited to glean insights from some amazing presentations. This is one of my most anticipated events of the year."
Digital Pharma West is one of the healthcare industry's most eagerly anticipated events. The intimate venue promotes highly productive conversations among attendees. Day one at this year's meeting focuses on the marketing landscape created by new technologies such as remote diagnosis and monitoring and by the looming presence of Amazon. Innovation is the other theme for day 1. After workshops and discussions that focus on the use of chatbots in healthcare, the day concludes with a pitch competition for healthcare start-ups. For the conference's remaining two days, attendees will analyze case studies where digital technology enhanced marketing campaigns, product development, and clinical patient support.
Jayson Mercado, head of digital events for ExL Events and lead organizer for Digital Pharma West, shares these thoughts on Mr. Kaspersetz's presentation. "Arteric has been a long-time partner of Digital Pharma's, and consistently has their finger on the pulse of the industry. This year, that trend continues with Hans presenting on how pharma marketers can leverage artificial intelligence to help accomplish their marketing objectives. As always, we're thankful for their thought leadership and look forward to learning from Hans in San Francisco."
Mr. Kaspersetz continues, "The variety of topics and frequent interplay with thought leaders working through challenges similar to our clients' provides a rich learning opportunity for our team. The conversations at Digital Pharma West keep us in sync with what's being discussed B2B and B2C, and more importantly, why."
Work With Arteric
Call Arteric at 201.546.9910 for guidance to help your brand succeed no matter how far and fast the technology landscape evolves. Ask for Hans Kaspersetz. The Arteric team is looking to take on new challenges.
About Arteric
Arteric is a healthcare digital marketing agency built on a foundation of technology expertise - digital strategy, software engineering, data, search engine optimization, and search engine marketing. Arteric is the digital agency that will propel your clinical trials recruitment, pre-market shaping, disease state education, brand launch, or brand revitalization forward with digital insights and execution that cannot be matched.
Contact
Arteric
Ross O'Shea
201.546.9910
https://arteric.com

Contact