Navneet Goenka, CEO of Glitzkoin: No Synthetic Diamonds on Our Blockchain Platform
Navneet Goenka confirms that there will be no synthetic diamonds on Glitzkoin's Blockchain platform.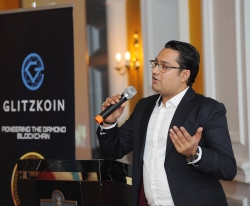 Kuala Lumpur, Malaysia, June 14, 2018 --(
PR.com
)-- Navneet Goenka, the CEO of the Glitzkoin diamond blockchain and crypto currency project, comes from a family that has been closely associated with the glittering industry for almost 5 decades. Glitzkoin happens to be the only diamond blockchain to be headed by a diamond veteran.
At a time when his promising project is focused on eliminating the problem of fake stones being sold as diamonds, the GIA and Debeers moves to embrace synthetic diamonds that are scorned upon by the diamond veteran. The outspoken CEO has always been passionate about the diamond industry but, does not hesitate to pinpoint unsuitable practices and procedures.
With his keen insight into every function and process of the diamond industry, Navneet Goenka had some serious words to say about diamond trade and practices. While such words would have normally been shunned and even admonished by the conservative industry, the fact that CEO is himself an "insider," makes all the difference.
The Glitzkoin CEO said that, "...inefficient practices and overheads that add no value to the industry or the product abound. A good example is the chain of brokers and middlemen who have dominated diamond trade for decades. The final buyer ends up paying, significantly more than what the actual seller quoted for the precious stone. The inflated component comprises of middlemen commissions and fees – mind you the bigger price comes with no added value whatsoever."
A diamond blockchain would allow buyers and sellers to transact securely and confidently without, the presence of middlemen. At the end of the day, the buyer gets a more realistic price and the industry as a whole gets exposed to a more interested and trusting market.
Talking about natural and synthetic diamonds, at the broadest level you have just two categories of diamonds – natural and fake. Diamond industry stakeholders like Debeers and GIA might give any fancy name to "synthetic" diamonds but at the end of the day, these stones are fakes made by man. There was a time when both Debeers and GIA, put down synthetic diamonds with all the forces that they could muster.
It is almost a betrayal of the trust and faith put into these industry stakeholders. Both of them have now succumbed to the temptation of cashing into the fake diamond market. According to Navneet Goenka, it would not be long before Debeers would have an entire factory churning out synthetic diamonds, like fast food sausages. On being asked whether, the price of synthetic diamonds would crash, the CEO made an appropriate comment, "...Debeers built the diamond market by using nothing more than, high pitched advertisement campaigns and clever marketing tempo. They can do it all over again for synthetic diamonds."
As the diamond industry pins its hopes on the Glitzkoin blockchain based diamond trading platform to improve, market sentiment and improve efficiency, CEO Navneet Goenka promises to maintain high standards. The focus is on improving efficiency and increasing market size and penetration – only for natural diamonds.
Contact
Glitzkoin
Navneet Goenka
+60 104248192
https://www.glitzkoin.com

Contact
Multimedia
This whitepaper provides all details about the Glitzkoin platform, mission statement, management team and advisors.