Museum Americana Launches Artist, Eden Page of Unique Background with Cultural Roots in Art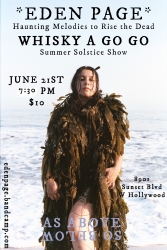 Los Angeles, CA, June 19, 2018 --(
PR.com
)-- The Whisky A Go Go, on June 21, 2018 at 7:30pm, begins the tour of
Eden Page's
Summer Solstice Show, performing "Haunting Melodies To Rise The Dead." Eden Page, singer, songwriter, producer, is from the Seattle area, Bainbridge Island, WA. Eden was conceived, born and began her first performances as a child singer inside a prison, WA State Women's Prison, an audience known to be the toughest. Eden's work as a writer, singer, musician, and head of Off The Wall Artist Collective in Seattle, as well as co-running her own studio, Bard Rock Studios with fellow Artist Sean Sebastian, has been able to capture her life through the arts. Eden Page's style is Indie/Alternative. Her four octave vocal range and her adept use of musical instruments (5), is incorporated into her first album, "SWORDS." Released this year by Bard Rock Studios, it delivers a haunting perspective which resonates of an American youth culture incarcerated, as the
US incarcerates
more of its own youth. Eden's voice is the cry of her generation. One who must be heard or avoided at our own peril.
"I'm honored to step foot onto the stage so many of my predecessors have poured their heart onto. I'm calling this tour my 'Tour De Anne' in honor of my late dear friend Annie, it is promoting my upcoming double album, 'Fruits of the Grieving Tree' and is an emotional effort as much as a musical one. I hope to share the gift of music with as many souls as I can reach. I am grateful for the opportunity to do so in the City Of Angels."
Her music and lyrics paint the picture of a young woman's life; "I will be playing my newest song, 'As Above So Below', I take this walk of grief, through the labyrinth, through the sea, it leads me to the grieving tree, consume its fruits until they consume me, plant my seeds, set me free." Exposed to art by her family, she has flourished. Her grandmother, one of a few female Tibetan Buddhist Lamas in the world, Sonam Chotson, was also featured in her first album video, "SWORDS," and her late grandfather, Maestro Armando Campero was an accomplished Mexican American muralist.
The new women driven entrepreneurial efforts of
Museum Americana
, are launching Eden Page, and will open officially in L.A. this year.
Contact
Museum Americana
Jackie Contreras
818-824-2758
museumamericana.com/

Contact