ICO Successfully Completed for Glitzkoin's Diamond Blockchain Project
Glitzkoin, the superior diamond blockchain project, successfully completed its ICO on the 25th of June, 2018. 14,000 people participated in the ICO for the blockchain that is seeking to revolutionize the $90BN diamond industry.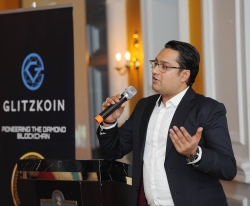 Kuala Lumpur, Malaysia, July 05, 2018 --(
PR.com
)-- Going by the huge interest generated by the Glitzkoin ICO, it would not be wrong to say that it was one of the highlights of the crypto world in 2018. As diamond veteran and Glitzkoin CEO Navneet Goenka put it, "...all good things come to an end..." The ICO was officially closed as previously scheduled, on the 25th June 2018.
More than 14,000 participants pitched their support for the diamond blockchain that, has the potential to transform the 90 billion dollar diamond industry. Participants included crypto community investors, reputed diamond dealers and bounty content generators who, focused their efforts on maximizing the reach of the Glitzkoin story.
The CEO thanked all participants for their support, in his words, "...focus would now shift to two important tasks..." This first related to the distribution of tokens to ICO participants and bounty program supporters. The distribution would be completed by the 15th July 2018.
One of the highlights of the Glitzkoin project, is the implementation of a comprehensive diamond blockchain. It is a well known fact that, the Glitzkoin blockchain is the only such project to be headed by a diamond veteran.
Convinced that this diamond blockchain had the potential to positively transform the industry, leaders in the diamond industry eagerly await the implementation of the trading platform. CEO Navneet Goenka did mention that, trials in the first phase would begin by the first week of September 2018.
Widely acclaimed as the most comprehensive effort to build an industry specific blockchain, the Glitzkoin ICO received strong support from the crypto community. The CEO confirmed that efforts to get the token listed on popular crypto exchange were on track. Listing by the first week of September 2018 appears very viable. Glitzkoin community members would be kept updated in the unlikely event that, unforeseen circumstances call for a delayed listing.
Senior crypto and blockchain analysts strongly feel that, this industry specific blockchain project, would inspire a whole new breed of blockchain based solutions across a range of industries. Technology can no longer be evaluated for what it is but rather, for what it does. The Glitzkoin move to bridge the gap between the latest blockchain technology and the conservative diamond industry is commendable.
Contact
Glitzkoin
Navneet Goenka
+60 104248192
https://www.glitzkoin.com

Contact