The Pugliese Company, Located in Delray Beach, Florida, Chosen by National TV Show "World's Greatest!..." for Skills Developing Land and Keen Eye for Architectural Design
The Pugliese Company, located in Delray Beach, Florida, has been selected for the national television show "World's Greatest!..." for its skill developing land and keen eye for architectural design. "World's Greatest!..." is the popular television series, which brings people, places and companies into the spotlight. Brought to you by the award-winning researchers and producers at How2Media, in Boynton Beach, Florida, "World's Greatest!..." is currently in its 12th season.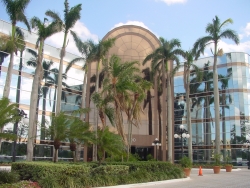 Delray Beach, FL, July 05, 2018 --(
PR.com
)-- The Pugliese Company is noted for nurturing residential and commercial communities through innovative land development projects throughout Florida and New Jersey. The Company's commitment to architectural artistry has produced some of the most preeminent, memorable, esthetically beautiful and functional properties in Florida.
The Pugliese Company has been turning unrefined land into profitable ventures for over 35 years. Through the thoughtful acquisition, investment, development, management and planning of earth's greatest gift – land.
The Pugliese Company was approached for consideration and selected by "World's Greatest!..." for several of the myriad of projects it has developed throughout the real-estate market in which it's active.
The Pugliese Company
first drew national attention for the development of Crystal Corporate Center in Boca Raton, Florida as the winner of the 1984 National Association of Office & Industrial Parks Award. The president,
Anthony V. Pugliese, III
designed the 135,000-square foot office building on the back of a TooJay's restaurant placemat. Today, that drawing has completed its journey from penciled placemat to acclaimed architectural allure. After three decades, the stunning structure hasn't aged a day in either functionality or artistic relevance.
Another project that garnered attention of "World's Greatest!..." was the acquisition and redevelopment of property in the Pineapple Grove district in Delray Beach, Florida. The Pineapple Grove district began development in the 1960's, but by the 1990's it had deteriorated into a stretch of old and dilapidated buildings and vacant land, none of which was of interest to the community.
The Pugliese Company envisioned Pineapple Grove's potential and acquired land in the heart of the district. Mr. Pugliese designed and developed 100 luxury residential and commercial condominiums, and a 20,000-square foot class A office building. This building serves as The Pugliese Company's corporate offices. Today, Pineapple Grove provides both architectural expression and South Florida's best nightlife. The days of cracked murals and barren sidewalks have been replaced by alfresco dining, exciting entertainment and cutting-edge retail. The area is now known as the Pineapple Grove Arts District.
Anthony Pugliese formed Pugliese Pools in 1969 when he was just 17 years old. At 22, he designed the "Natural Look Pool" - a swimming pool that resembles a lake or pond. The concept took off and catapulted Pugliese Pools into one of the greatest and most successful pool companies in New Jersey. Today, Pugliese's original designs are still crafted by his family and copied by pool builders throughout the northeast. When it comes to aesthetic concepts, Anthony Pugliese has never been afraid to create innovating new designs coupled with improved functionality.
Prudent planning combined with thoughtful execution have been hallmarks of the company's brand since its first acquisition and redevelopment in 1970 of a vacated supermarket in Newark, New Jersey. Decades later, The Pugliese Company has acquired, managed, developed and redeveloped millions of square feet of self-storage, residential, retail, industrial, commercial, manufacturing, and distribution complexes. In addition to property development, it owns and has managed millions of square feet of commercial properties.
The Pugliese Company is committed to adding value to its portfolio and the communities it cherishes, without compromising either. In every step of the way, The Pugliese Company team utilizes its wide range of development skills, from hands-on due diligence through the processes of planning, zoning, design and permitting.
The Pugliese Company prides itself on its belief not to pinch pennies on aesthetics to save on costs. The Pugliese Company believes that an architecturally beautiful and functional structure will add value to the both the community and the project.
The Pugliese Company team and its founder, Anthony V. Pugliese, III, are extraordinary examples of leadership, vision and insight with an innate ability to react swiftly to shifts in the marketplace, making this company one of the "World's Greatest!..."
Contact
The Pugliese Company
Peter Dimaira
561-454-1711
https://thepugliesecompany.com

Contact