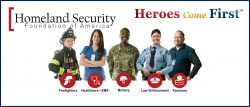 Reston, VA, July 12, 2018 --(
PR.com
)-- The Homeland Security Foundation of America (HSFA) Office of Health and Human Services (HHS) announced today its plans to incorporate the Heroes Come First Program into its mission through a new public-private partnership with Access National Mortgage.
Organization officials say this is another big step in maintaining its commitment to bringing valuable HHS services and programs to the public.
"The Heroes Come First program is directly in line with our new framework for HHS," said HFSA President and Chairman Eric Brown. "And, it's more than just a professional commitment, it's deeply personal. My family has a long tradition of serving America dating back to my granddad serving in the U.S. Navy back in World War II. This is an important program, and we are proud to present it to our staff, volunteers, donors and the citizens we serve in all U.S. congressional districts. We look forward to having the Heroes 1st Team at our next active shooter awareness town hall meeting on 17 July at the Hilton in Columbus, OH."
The program offers financial rewards to American heroes, which includes all current and former Firefighters, Law Enforcement Officers, Military Personnel (active, reserves and veterans), Healthcare Workers, Emergency Medical Services Workers and Education Professionals. Heroes Come First is one of several programs slated to launch as a part of the foundation's new HHS Mission Template, which focuses heavily on family services, medical and mental health, nutrition and pandemic preparedness.
Heroes Come First Team Leader Joe Kelly said that the Heroes Come First program was created to offer meaningful assistance to heroes as a way of saying thank you for their service. The Company also formed its Hero First Team, a group of lending professionals passionate about serving heroes to provide dedicated support to heroes and their families. The Heroes Come First Program through Access National Mortgage enables participants to receive up to $2,000 when they buy, refinance or sell a home.
In addition to providing financial rewards to heroes, Access has pledged significant periodic donations to HSFA under this public-private partnership to help further HSFA's HHS mission.
"We're proud to team up with the Homeland Security Foundation of America," said Kelly. "This is an important partnership, which will help us expand our reach into the communities HSFA serves. We're very excited about helping even more heroes accomplish their mission of home ownership."
Founded in 2002, HSFA is an agency organized and certified as public, tax-exempt under IRC 501(c)(3) with 170(b)(1)(A)(vi) status. Its mission is to advance hometown security while protecting civil liberties. This mission is accomplished by the organization working with local, state and Federal agencies, organizations and communities to deliver life-saving public safety, energy security and health and human services programs to the public. HSFA is not a government agency. For more information about HSFA's work in the community, visit http://www.hsfamerica.org. For more information on the Heroes Come First program, visit http://www.hsfamericaheroes.com.
Access National Mortgage, a division of Access National Bank, is a federally chartered institution doing business in all 50 states. It is an approved lender with Fannie Mae, Freddie Mac, FHA, VA, USDA and an Equal Housing Lender. Since 1985, the company has provided thousands of mortgages for customers nationwide. For more information on Access National Mortgage, visit http://www.accessnational.com. NMLS #408540