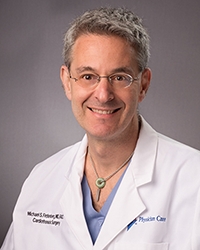 Aurora, CO, July 12, 2018 --(
PR.com
)-- In service to its mission, HCA/HealthONE's The Medical Center of Aurora (TMCA) is pleased to announce that Dr. Michael Firstenberg has accepted the role of Chair of Cardiothoracic and Cardiovascular Surgery effective July 1, 2018. Dr. Firstenberg recently joined TMCA from his previous role at Summa Health in Akron, Ohio.
In his new role, Dr. Firstenberg will provide leadership in further developing TMCA's advanced multidisciplinary cardiothoracic and cardiovascular surgical programs to serve the residents of Aurora, Colorado, and the surrounding Mountain States Region.
Dr. Firstenberg is trained in adult cardiac surgery with special interests in temporary mechanical circulatory support, complex coronary artery surgery, and congenital and acquired valvular and aortic problems. He has additional expertise in unusual cardiovascular problems including infections of heart valves, pulmonary embolisms, and re-operative surgery. He has edited several books on topics in cardiac surgery, patient safety, and, most recently, medical leadership. He has authored numerous book chapters and over 150 peer-reviewed manuscripts. He is a sought-after speaker who travels around the world lecturing on topics in cardiothoracic surgery. He holds faculty appointments in the College of Graduate Studies and Departments of Surgery and Integrative Medicine at Northeast Ohio Medical University and is active in medical/surgical educational initiatives.
"We are proud to welcome Dr. Firstenberg into this new role at The Medical Center of Aurora," said Dianne McCallister, MD, Chief Medical Officer of The Medical Center of Aurora and Spalding Rehabilitation Hospital. "He brings with him years of experience and a level of service and quality that is world class."
Dr. Firstenberg, a native of Cleveland, Ohio, attended medical school at Case Western Reserve University School of Medicine where he trained in general surgery; he also conducted advanced imaging and cardiovascular physiology research at The Cleveland Clinic. He completed his formal cardiothoracic training at The Ohio State University and an advanced surgical fellowship in heart failure, transplant, and mechanical support at The Cleveland Clinic. He was a tenure-track faculty member at The Ohio State University for seven years, specializing in adult cardiac surgery.
Dr. Firstenberg currently holds board certification in thoracic surgery. He has won numerous quality, patient satisfaction, and research awards and has been recognized as one of America's Top Doctors in Thoracic and Cardiac Surgery by Castle Connolly and as one of the Top Doctors in Cleveland by Cleveland Magazine.
Dr. Firstenberg has been extensively involved in various clinical and basic science research activities. He is a member of several national and international professional societies and serves on several of their leadership committees, including currently serving as the Chair of the Credentialing and Member Services Committee of the American College of Cardiology, the first surgeon to be appointed to lead this important committee.
"I am honored to be here at The Medical Center of Aurora," said Dr. Firstenberg, "and I look forward to working with the physicians and employees at this fantastic hospital in this beautiful community that we serve. I am excited for all that the future holds for our cardiac program."
About The Medical Center of Aurora
The Medical Center of Aurora, the first community hospital in the Denver Metro area to receive two-time Magnet designation for nursing excellence by the American Nurses Credentialing Center (ANCC), is a 346-bed acute care hospital located in Aurora, Colorado. The Medical Center of Aurora is comprised of six campuses in Aurora and Centennial, Colo., including the South Campus, located at Interstate 225 and Mississippi, the North Campus Behavioral Health and Wellness Center, Centennial Medical Plaza, Saddle Rock ER, Spalding Rehabilitation Hospital, Spalding Rehabilitation at P/SL, and a medical office building at Green Valley Ranch. The South Campus facility is a Level II Trauma Center with Primary Stroke Certification and Chest Pain Center accreditation, and has an affiliation with Rocky Mountain Hospital for Children. The Medical Center of Aurora received "A" grades from The Leapfrog Group (Fall 2015, Fall 2016, Spring 2017, Fall 2017), was Colorado's only hospital to receive the Leapfrog Top General Hospital designation two years in a row (2016, 2017), and was recognized as the #4 hospital in the Denver metro area and the #4 hospital in Colorado by U.S. News & World Report (2014-2015, 2017-2018). The Medical Center of Aurora and its affiliated campuses are part of the HealthONE System. Learn more at AuroraMed.com.