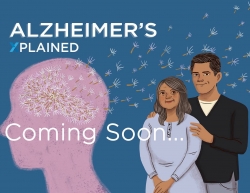 Los Angeles, CA, July 23, 2018 --(
PR.com
)-- Medicine X is launching their first interactive story in the Alzheimer's space this Sunday during the Alzheimer's Association International Conference (AAIC). "Alzheimer's Xplained" aims to provide education and awareness to Alzheimer's patients and their caregivers throughout the various stages of the Alzheimer's journey.
The illustrated narrative is based on Esai Morales and one of his family members, who is diagnosed with Alzheimer's disease. The story is told from the perspective of Morales, who recognizes his family member's memory beginning to slowly fade.
The interactive anecdote from Medicine X provides patients and caregivers with critical information and support. The "Alzheimer's Xplained" app can be found on iTunes or Google Play, and the story can also be accessed on all web browsers at
www.alzheimersxplained.com
.
In the digital story, Morales takes readers through the hardships his family faces in order to properly understand Alzheimer's disease and to obtain the proper care for his loved one.
"My advice would be to download this app, and not just because it is about my family! Alzheimer's is an awful and sad disease," says Esai. "This story would have been a great resource when (our loved one) was diagnosed. Everyone should have the opportunity to arm themselves with as much information as possible, so we can take better care of all Alzheimer's patients."
The purpose of "Alzheimer's Xplained" is to bridge the gap between doctors and their patients through storytelling, making complicated medical terms understandable for the average patient. Following the motto "By Doctors, For Patients," Medicine X develops projects through collaborating with leading specialists and healthcare experts.
Dr. Kim Chilman-Blair, founder and president of Medicine X, explains the purpose of creating the Alzheimer's story:
"We want to empower patients with Alzheimer's and their caregivers so that they can receive accurate information concerning the medical basis of the condition. Alzheimer's Disease is a very complicated medical problem, so our aim is to explain it to people in a way they can fully understand. This will empower families to become more involved in their medical decision-making process," says Dr. Chilman-Blair.
Dr. Chilman-Blair believes storytelling is the most effective way for patients to fully understand their medical journeys. "Between 40-80% of all patients immediately forget medical information given to them by doctors. Through creating Alzheimer's Xplained, we hope to change this statistic," says Chilman-Blair.
About Medicine X
Medicine X is a team of doctors and artists dedicated to creating accessible and easily-digestible medical information for all patients, through interactive illustrations. We believe everyone should be educated and empowered in order to take part in their own medical decisions, regardless of age, gender, culture or condition. Medicine X continues dedicating its resources to help its global audience fully understand medical conditions. For more information on Medicine X and their latest project, please visit:
www.medicinex.com
or
www.alzheimersxplained.com
.